Home
GENERAL PERISIC'S DEFENSE RESTS ITS CASE
The defense of the former chief of the VJ General Staff has called all its witnesses. An additional prosecution witness will testify next in rebuttal of some of General Perisic's evidence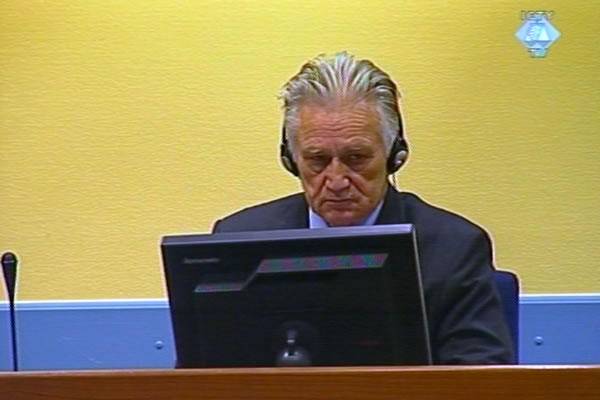 Momcilo Perisic in the courtroom
The defense lawyers representing the former chief of the VJ General staff Momcilo Perisic stated today that they have no more witnesses to call. Lawyer Novak Lukic asked for five more days to reach an agreement with the prosecution about the status of some documents tendered into evidence. Once that is finished, the defense will rest its case.
The prosecution will then call an additional witness in rebuttal of some of General Perisic's evidence. The date for his testimony has not been decided yet, because bringing the witness was, according to prosecutor Mark Harmon, 'a delicate issue that will take time'.
The indictment charges General Momcilo Perisic with providing logistic, personnel, financial and other support to the Republika Srpska Army and the Army of the Serbian Krajina, thus contributing to the crimes those troops committed in Sarajevo, Zagreb and Srebrenica.
During its case the defense tried to prove that General Perisic didn't exercise effective control over those armies and didn't provide significant support in personnel and arms. According to the defense, the VRS and the SVK were under the control of their commanders and the arms were supplied by the SFRY military industry with the approval of the federal defense ministry, not the chief of the General Staff.
The defense called an array of VJ servicemen who had been seconded during the conflict to the VRS and the SVK. Although they were transferred through the 30th and 40th Personnel Centers, run by the VJ General Staff, the witnesses claimed they had served in the VRS and the SVK, although they received all their benefits and other rights through the JNA. The prosecution alleged that General Perisic established the 30th and 40th Personnel Centers in order to create a regulatory framework for the transfer of the VJ personnel to the VRS and the SVK, to pay their salaries and to get them health insurance. According to the defense, the personnel centers were merely 'administrative bodies' of the Personnel Administration in the General Staff.
General Perisic also tried to prove that he had no control over the salaries paid to the VRS and SVK personnel. The defense argued that the federal government and the defense ministry were in charge of that issue in line with the decisions of the Supreme Defense Council, chaired by the then Yugoslav president Zoran Lilic.
General Perisic's defense case started on 22 February 2010, but it was marked by frequent interruptions. Their nature was discussed in closed sessions. During the longest break, at the beginning of the summer of 2010, the defense was waiting to receive the translation of Ratko Mladic's notebooks. Excerpts from the notebooks were later admitted into evidence. In his writing, Mladic speaks about the ties between the VJ and the VRS and the support and help he received from Belgrade.