Home
ICTY LIFTS SEAL FROM SUPREME DEFENSE COUNCIL DOCUMENTS IN MOMCILO PERISIC CASE
On the eve of the closing arguments at the trial of the former chief of the VJ General Staff, the Trial Chamber granted the prosecution's request and lifted the seal from 'some documents' exhibited by the prosecution. SENSE learned that those documents included the minutes from the meetings of the FRY Supreme Defense Council, where decisions were made to deploy the VJ in the wars in Croatia and BH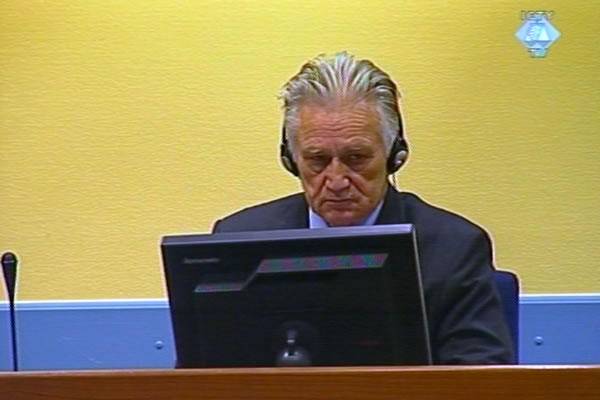 Momcilo Perisic in the courtroom
The Trial Chamber in the case against former chief of the Yugoslav Army General Staff Momcilo Perisic has decided to grant the prosecution's request and lift the seal from 'some documents' admitted into evidence under seal and all the relevant transcripts of closed sessions where the contents of these documents were discussed.
The decision states that the Republic of Serbia has not sought any protective measures for those documents, and Perisic's defense is not opposed to their new status.
The documents and transcripts are listed in Annex A which will not be made public until Monday, as the Tribunal's Public Information Office has told SENSE. The closing arguments in the Perisic trial are scheduled to begin on Monday. General Perisic is a former chief of the VJ General Staff and is charged with providing personnel, logistics and financial support to the Republika Srpska Army and the Serbian Army of Krajina, thereby substantially contributing to the crimes their commanders and soldiers committed in Sarajevo, Srebrenica and Zagreb.
The documents which are now in the public domain include the minutes from the meetings of the FRY Supreme Defense Council, SENSE learned. These documents were first provided to the Tribunal for the trial of Slobodan Milosevic, but on condition that they not be made public in order to prevent their use in the law suit filed by BH against Serbia before the International Court of Justice. The prosecution claims those documents prove the role the Supreme Defense Council, the VJ and other Serbian forces played in the wars in Croatia and Bosnia and Herzegovina, and will likely quote from them in the closing arguments slated for next week.