Home
WAS ARMY IN CHARGE OF POLICE OR NOT?
The defense of the first Bosnian Serb interior minister contended that in 1992, the army controlled the police in some towns. Former VRS officer denied it, saying any military orders to that effect were 'illegal'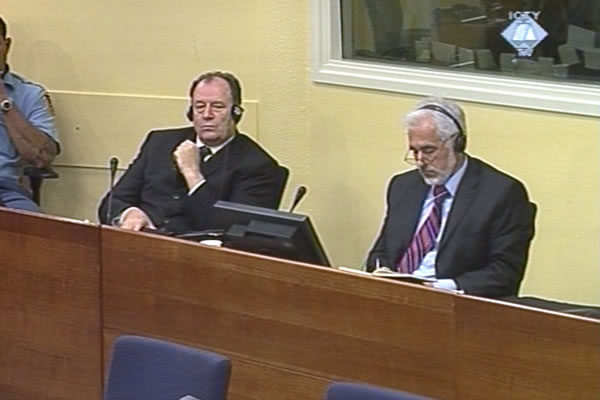 At the trial of Mico Stanisic and Stojan Zupljanin, former VRS officer testifying under the pseudonym ST-197 completed his evidence. In September 2010, the witness was examined by the prosecution and over the past few days, the defense lawyers of the former Bosnian Serb officials had an opportunity to cross-examine him.
The defense lawyer representing the first Republika Srpska interior minister Mico Stanisic noted that in a state of war, the army controlled the workings of civilian authorities including the police in many towns in BH. The defense lawyer showed the witness various orders signed by military personnel, whereby people were appointed to various posts in the police and the judiciary. The witness insisted those orders were 'illegal', noting that in the region where he worked such orders were not implemented.
Lawyer Slobodan Cvijetic put to the witness the defense case: the police was not part of the RS armed forces, which comprised the army and the territorial defense and 'every individual who volunteered to serve in the army and accept military discipline'. The police could take part in military operations only if its units were resubordinated to the army, the defense counsel maintained. In such cases, those units received orders only from military commanders.
The witness agreed that the military commander issued orders, insisting that they had to be in line with the law. But, as the witness explained, the Security Services Center in Banja Luka headed by Stojan Zupljanin was kept abreast about the activities of the police brigade in the witness's area of responsibility.
In his replies to the defense counsel, the witness referred to the data from a book by Muhamed Sadikovic, To Testify of Crimes and Bosnian Patriotism, and to Brown's expert report. In the re-examination, the prosecutor wanted to know how the witness obtained the reading material and to what extent the data from the book and the report influenced his evidence. The former VRS officer explained that the staff of the Banja Luka Center for Cooperation with the Tribunal gave him the book and the report to read, 'by way of information, without any particular agenda'. In addition to the two books, the witness was given a VRS monograph by the staff at the Center. However, as he said, what he read 'is mostly consistent' with what he knew.
At the end of the hearing today, Dobrislav Planojevic began his evidence. In 1992, he served as assistant to the Bosnian Serb interior minister for crime prevention. Planojevic's evidence continues tomorrow and next week.