Home
NON-SERB POLICEMEN FORCED TO TAKE VACATION
Former policeman from the region of Banjaluka says that the Muslim police officers from Kljuc were put on vacation to 'think it over' after they refused to wear the new Serb insignia on police uniforms. None of them ever rejoined the Serb police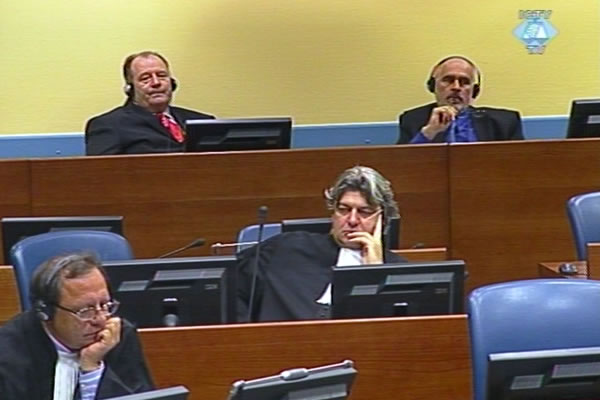 Mico Stanisic and Stojan Zupljanin in the courtroom
Over the past three days, former policeman from the region of Banjaluka has been testifying at the trial of first Republika Srpska interior minister Mico Stanisic and Stojan Zupljanin, former chief of the Security Services Center in Banja Luka. The witness is testifying with protective measures, under the pseudonym ST-218 and mostly in closed session.
In the part of the examination-in chief open to the public, the witness said that on 7 May 1992 the police chief in Kljuc got all the staff of the public security station together, and told them there would be changes to the insignia and uniforms. Instead of a regular police cap with the red star, the police officers were to wear a blue beret with the Serb tricolor, the chief told them. Of all the non-Serb police officers, only one Croat agreed to do it. All the Muslims refused to accept the change. They were put on vacation to give them some time to 'think it over'. No Muslims returned to the police in Kljuc after that. The witness added that Kljuc was the last municipality that introduced the new insignia.
In April, the police set up checkpoints throughout the town and the Red Berets joined them in May, the witness said. The police chief explained that they were the reserve forces of the state security service. A curfew was introduced in the town and the restrictions of movement applied to all its inhabitants, not only non-Serbs, the witness claimed.
Stojan Zupljanin's defense lawyer noted in his cross-examination that there were no incidents in Kljuc before 27 May, when, as the defense contends, the Muslims started their armed rebellion, 'launching a synchronized attack' on the army, police and roads. Consequently, every action the police took was aimed at suppressing the armed rebellion and calming the situation, the defense claims, and it could not be interpreted as an attack on unarmed civilians as the prosecution alleges. The witness agreed that the situation in Kljuc was peaceful until late May 1992.
According to the indictment against Stanisic and Zupljanin, in May and June 1992 Muslims from Kljuc were arrested and detained in the police station and the Nikola Mackic primary school. They were often abused during the interviews; police chief Nikola Kondic was among those who examined detainees. The two worst crimes in the Kljuc municipality listed in the indictment are the murder of about 150 civilians in the village of Biljani and the execution of some 70 Muslims in front of a school in the village of Velagici.
The trial of Stanisic and Zupljanin for the crimes the Serb police committed against non-Serb civilians in 20 BH municipalities in 1992 continues tomorrow.