Home
PROSECUTOR: VLASTIMIR DJORDJEVIC'S GUILT HAS BEEN PROVEN
In his closing argument at the trial for crimes in Kosovo in 1999, the prosecutor noted that the former chief of the Public Security Department in the Serbian police, Vlastimir Djordjevic, played a key part in the effort to cover up the crimes by removing the bodies from the province to several locations in Serbia and had effective control over the police units that deported and murdered Albanian civilians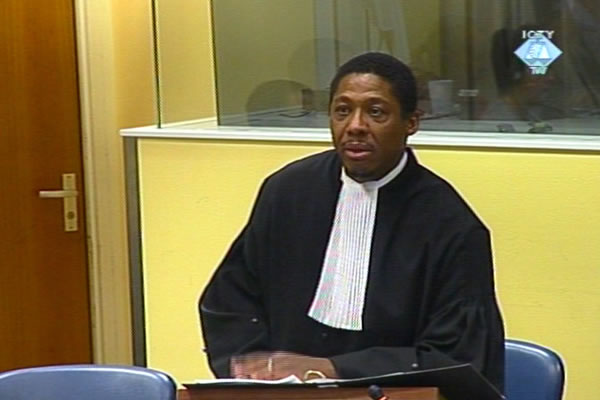 Chester Stamp, tužioc na suđenju Vlastimira Đorđevića
Based on the evidence showed in the trial that lasted one year and a half, the Trial Chamber with Judge Parker presiding, can reach only one conclusion: that the former chief of the Public Security Department in the Serbian police is guilty on all counts of the indictment, charging him with participation in a joint criminal enterprise to permanently remove Albanians from Kosovo in 1999, prosecutor Chester Stamp argued in the closing arguments today. He emphasized Djordjevic was not the mastermind, but an important cog in the wheel of the joint criminal enterprise headed by the president of the state, Slobodan Milosevic.
According to the prosecutor, the scale and pattern of crimes in Kosovo during the NATO intervention clearly show there was a plan to expel Albanians from Kosovo. In a matter of months, between March and June 1999, about 800,000 civilians were deported and thousands were killed. The pattern was the same: uniformed Serbs entered Albanian villages after a joint attack by the army and police, houses were destroyed, some civilians singled out and killed, and others expelled after their IDs were confiscated.
This scenario, according to the prosecutor, could not have been implemented without the participation of Djordjevic and his subordinate police officers. The accused knowingly contributed to the realization of the goals of the joint criminal enterprise by arming the Serb population in Kosovo and disarming the Albanians, facilitating the arrival of paramilitary units such as the Scorpions, and playing a key role in the removal of bodies from Kosovo to Serbia. The prosecutor reminded the court that Djordjevic, according to the testimony of numerous witnesses, ordered the removal of some 800 bodies of Albanian civilians to three locations in Serbia – Batajnica, Petrovo Selo and the Perucac lake.
Since in the course of the trial the defense tried to shift the blame for the events in Kosovo in 1999 on the then police minister Vlajko Stojiljkovic, alleging he often clashed with Djordjevic, the prosecutor insisted that the evidence shows that, quite the contrary, 'there were no misunderstandings between them… they worked side by side, pushing toward the same goal'. To illustrate the point, the prosecutor used documents that show that in February 1999 Djordjevic and Stojiljkovic issued identical orders to the police in Kosovo, referring to each other's orders.
As for the command responsibility of the accused, the prosecutor noted in the closing arguments today that the evidence shows Djordjevic was superior to the police units that took part in the deportations of Albanian civilians and mass murders in Podujevo, Suva Reka, Mala Krusa, Djakovica and other locations in the province. Although the accused knew about the crimes, he did nothing to prevent or investigate the crimes.
Although it had been customary in the closing arguments so far, the prosecutor did not specify the sentence he sought for Djordjevic. The defense will present its closing arguments tomorrow.