Home
KARADZIC HAD REAL POWER
Branko Djeric, prime minister in the first Bosnian Serb war government, contends that in 1992, the accused Mico Stanisic 'got into the role of wartime police commander' 'bypassing' the government in order to communicate directly with Radovan Karadzic who had real power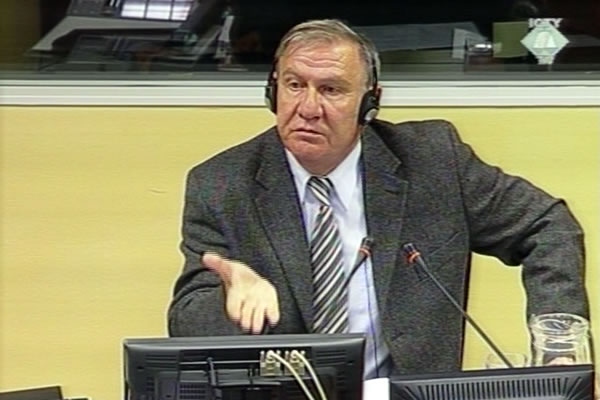 Branko Đerić, svjedok na suđenju Mići Stanišiću i Stojanu Župljaninu
Continuing his evidence at the trial of Bosnian Serb police officials Mico Stanisic and Stojan Zupljanin, Branko Djeric, prime minister of the first Bosnian Serb war government, explained how the authorities functioned 'in real life' in 1992. The government, the witness maintained, was just an 'appendage' to the 'single-party regime'. The real power, Djeric contended, was in hands of the SDS president, Radovan Karadzic.
The prosecution showed the witness the minutes taken at the meetings of the government and the Bosnian Serb assembly from January to October 1992 when Djeric was prime minister. The minutes show that from mid-1992, the interior minister Mico Stanisic didn't attend most of the government meetings. The witness explained that at that time Stanisic communicated with Radovan Karadzic directly 'bypassing' the government. This is precisely the root of the conflict between Djeric and Stanisic.
According to the witness, the interior minister was acted 'roughly and arrogantly' at the time, not as a minister but as the 'wartime commander of the police'. Although he repeatedly called for Stanisic's resignation, Djeric claimed that the SDS leadership insisted on Stanisic keeping his post of the interior minister. His efforts to have the minister report to the government about his work didn't bear fruit, Djeric said. Crime, on the other hand, 'increased to a level where it destroyed the authority'. In October 1992, Djeric resigned as the prime minister because he was not able to control Mico Stanisic and Momcilo Mandic, the justice minister.
Questions about the historical background of the conflict in the former Yugoslavia marked the beginning of Djeric's cross-examination by Mico Stanisic's defense. Djeric agreed with defense counsel Slobodan Cvijetic that the first Bosnian Serb government was supposed to be a 'peacetime government' but some events 'have gotten in the way'. As Djeric said, those events are the rejection of Cutilheiro's peace plan, envisaging the cantonization of BH, the decision of the BH Assembly to declare independence and attacks on the JNA soldiers withdrawing from Tuzla and Sarajevo.
The defense also noted that the Pale government had problems controlling all Serb territories because the communications were down and 'the local authorities' in the Serbian Autonomous Regions (SAOs) did as they pleased'. The witness agreed with that too.
The defense of Mico Stanisic and Stojan Zupljanin will continue cross-examining Djeric on Monday.