Home
CROATIAN POLICE WAS AFRAID
Ivan Cermak's defense witness has admitted that it is 'disappointing' that the police did not investigate the crime scenes where Serb civilians had been killed in Krajina, but the fact remains that the Croatian police were afraid that the straggling Serb soldiers might attack them and did not want to stay at crime scenes too long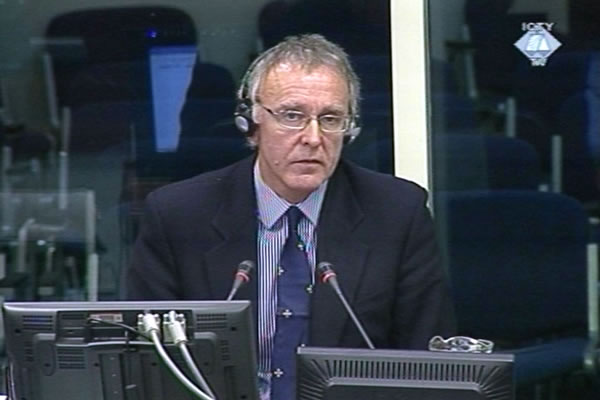 Christopher Albiston, svjedok odbrane Ivana Čermaka
British police expert Christopher Albiston continued his evidence at the trial of Croatian generals. On the second day of his cross-examination, prosecutor Katrina Gustafson tried to challenge the claim in his report that after Operation Storm Ivan Cermak worked together with the civilian police, but did not have any command over them. Cermak is on trial because in the summer of 1995 he allegedly failed to use his authority as the Knin Garrison commander to prevent and punish the crimes against Serbs, thus contributing to the goals of the joint criminal enterprise. Generals Gotovina and Markac are in the dock for their alleged participation in the same criminal enterprise.
Since a number of Cermak's orders to the Knin police commanders Romanic and Mihic are already in evidence, the prosecutor asked the witness whether he, in their shoes, would have sought some explanation from MUP superiors as to why they are receiving orders from someone they're supposed to 'work with' and nothing else. Albiston said he would certainly have done so, admitting that he couldn't find any instances where civilian police officers complained about Cermak's orders in the documents he had inspected for his report.
The prosecutor then showed a document drafted by the European monitors in August 1995. After they complained about the restrictions to their freedom of movement, Cermak contacted the police minister directly and demanded that the problem be solved. The prosecutor asked the witness how many people in his country are able to call up the police minister directly, to his knowledge. 'I don't know anyone who can do that,' Albiston said, admitting that the document testifies to Cermak's 'influence and access to the highest echelons in the Croatian MUP'.
The prosecutor then challenged Albiston's claim that lack of human and financial resources in the police contributed to the hike in crime in the liberated area. According to the prosecution, the documents the witness inspected show that the police did not conduct any crimes scene investigations in most of the places where people had been murdered, including the village of Grubori in Krajina where five bodies of elderly Serbs with gunshot wounds were found in late August 1995. Albiston admitted it was 'disappointing, but only to be expected, because proper crime investigations could not be conducted before control was established over the territory.
The prosecutor countered that the control over the territory had certainly been established, because the police would remove the bodies from the crime scenes and bury them for the most part in the Knin cemetery. Yet the police did not do any crime scene investigations, Gustafson argued. The witness pointed to the fact that the Croatian police feared for their lives because they thought there were straggling Serb soldiers in the hills, and wanted to leave the crime scenes as soon as possible.
Christopher Albiston's testimony will end tomorrow. Cermak's defense will then call its last witness.