Home
CERMAK'S 'REQUESTS' TO THE POLICE
Although he was shown several orders Ivan Cermak issued to the police, former chief of the Zadar-Knin Police Administration Ivica Cetina remained adamant that the accused general had no authority over the police after Operation Storm. Cetina did admit that they would look into the reports about crimes received from Cermak, adding that they would inform him about the results of the investigation if Cermak requested them to do that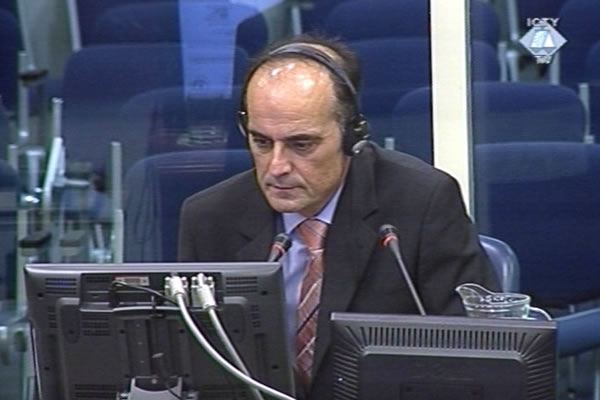 Ivica Cetina, svjedok odbrane Ivana Čermaka
At the beginning of the hearing today, prosecutor Mahindaratne produced a transcript of a meeting between the military and civilian police on 15 September 1995. At the meeting, Ivica Cetina, currently testifying as Cermak's defense witness, describes the situation in Krajina after Operation Storm. Generals Ante Gotovina, Ivan Cermak and Mladen Markac are on trial for crimes in Krajina in the summer and fall of 1995.
Speaking at the meeting as the chief of the Zadar-Knin Police Administration, Cetina said that in the first phase, immediately after Operation Storm, professional HV units operated in the liberated territory. They were replaced with units 'that burned down the houses and threatened with weapons' those who attempted to stop them. Finally Cetina recounted that in the third phase in Krajina there prevailed 'civilians who took property in large quantity'. The witness said yesterday that the civilian police were leery of the HV troops perpetrating crimes; the prosecutor asked Cetina if he told anyone in the army about those problems. Cetina replied he didn't do that; he reported this to his superiors in the MUP instead, but couldn't tell if they did anything later.
According to the prosecution, the witness's statement to the defense shows that the police was lax about the crimes. The witness told the defense that most of the murders took place in remote villages far from the main roads where the police rarely ventured. The reports about crimes were obtained from the civilian defense or international observers. When asked why the police relied on reports of others instead of visiting the remote villages themselves, Cetina said that the MUP at that time was understaffed.
Contesting the witness's claim that, as the Knin Garrison commander, General Cermak did not have any influence on the police units in the field, the prosecution showed several orders the accused general issued to the police and the reports Cermak received subsequently from the police. Cetina nevertheless stuck to his previous claims, saying that Cermak's communication with the MUP units was based on 'requests': the police would check reports about crimes they received from Cermak and, if the general requested them, they would inform him of their findings. In re-examination by defense counsel Kay, the witness said that it was Cermak's civic duty to report crimes to the police. Cermak was informed of results, among other things, because he was supposed to forward the information to the UN mission representatives in Krajina.
In his cross-examination, Cetina said that on the orders of the deputy interior minister Zidovec the police didn't conduct crime scene investigations when they came across human bodies in the course of clean-up operations. The defense tendered into evidence several documents showing that in some cases crime scene investigations were indeed conducted.
Ivan Cermak's defense case continues on Monday.