Home
GENERAL CERMAK 'INCREDIBLY UNQUALIFIED'
Defense military expert Jack Deverell has denied that General Ivan Cermak had any command authority over the HV units in Krajina after Operation Storm, saying that Cermak was 'incredibly unqualified' for any military role and noting he was 'flabbergasted' when he saw a paragraph in the indictment listing the units allegedly under Cermak's command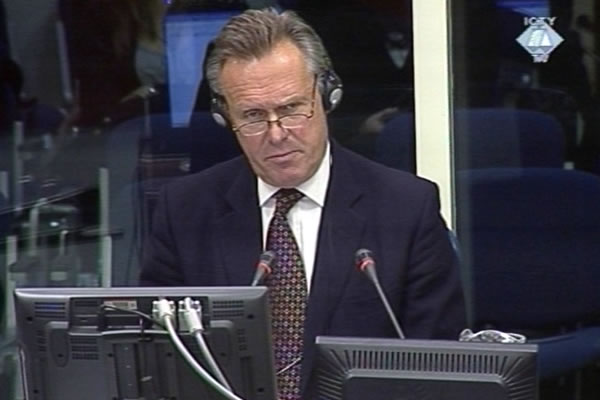 Jack Deverell, svjedok odbrane Ivana Čermaka
As the evidence of police expert Christopher Albiston drew to a close, the prosecution and the defense fought a document war, each party producing documents showing the efficiency, or lack thereof, of the Croatian civilian police after Operation Storm in the summer of 1995.
Prosecutor Gustafson showed a series of reports by international observers about the police officers often not doing anything even when they saw houses being looted and set on fire. High ranking Croatian police officials would talk to the observers and try to cover up those incidents, offering various explanations: that the houses were on fire because of faulty wiring, etc. The witness said he saw examples like that in the documents he received from the defense. Although 'the police conduct was unsatisfactory', the witness said, one should not forget that for various reasons the police work in Krajina after the conflict was difficult.
Defense counsel Higgins returned fire with a set of Croatian MUP documents, where deputy minister Moric issues an order immediately after Operation Storm to 'put an end' to the looting and arson in Krajina and to start investigating those crimes. Albiston said that evidently the police had every intention of investigating the crimes, but errors were always possible in 'individual police actions'.
After a brief re-examination by the defense teams of generals Gotovina and Markac, Christopher Albiston concluded his evidence. Cermak is on trial together with generals Gotovina and Markac for crimes committed during and after Operation Storm. Cermak's defense then called its last witness, retired British general Jack Deverell. As a defense military expert, Jack Deverell drafted an expert report shedding light on Cermak's role as the Knin Garrison commander.
Deverell studied the curriculum vitae of the accused and concluded he was 'incredibly unqualified' for any military function: Cermak never had any military training. Nevertheless, once he was appointed garrison commander, under the Croatian law Cermak was responsible for the functioning of the Knin Garrison. Cermak was also in charge of maintaining 'order and discipline' among the soldiers in the Garrison buildings but had no authority over units 'that were passing through'.
The witness said he was 'flabbergasted' when he saw a paragraph in the indictment listing units Cermak had allegedly controlled, such as the 4th and the 7th Guards Brigade, 126th Home Guard Regiment or the 113rd Infantry Brigade. Among the documents from that time, Deverell couldn't find any orders the Knin Garrison commander issued to those units. He couldn't find any reports issued by the units' commander sent back to the Knin Garrison commander either.
The British general continues his evidence on Monday and is expected to complete it on Wednesday.