Home
CERMAK RECEIVED REPORTS 'AS A COURTESY'
In his expert report, British general Jack Deverell says that Ivan Cermak, Knin Garrison commander, didn't have any authority over the military police in Krajina after Operation Storm. Explaining why he concluded that, he said that Cermak didn't' receive reports from the military police as their 'primary recipient', but 'for his information', 'as a courtesy' and was not obliged to do anything about them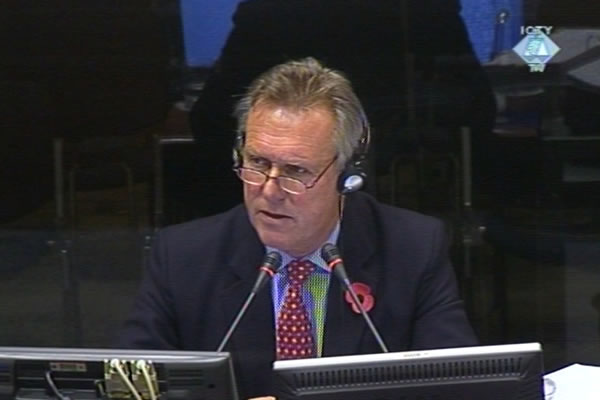 Jack Deverell, svjedok odbrane Ivana Čermaka
As the examination-in chief of defense military expert Jack Deverell drew to a close, defense counsel Cayley brought up a part of Deverell's expert report where he says that General Ivan Cermak, as the Knin Garrison commander, didn't have any authority over the military police in Krajina after Operation Storm in 1995. Generals Gotovina, Cermak and Markac are on trial for numerous crimes perpetrated at that time against Serb civilians in the territory liberated by the Croatian armed forces.
Contesting the prosecution's argument that Cermak had to have used his authority over the military police to prevent the crimes perpetrated by the HV members, Deverell said that the accused general took no part in the decision-making about the military police operations. The witness noted that Cermak would at times receive reports from the military police, but not as the 'primary recipient'; those report were sent to Cermak 'for his information', 'as a courtesy', as Deverell put it. Deverell admitted he saw several orders Cermak issued to the military police in Knin. In Deverell's opinion, Cermak did that because 'he was not aware he was not authorized to issue such orders' and because Cermak 'didn't have good advisers'.
As the hearing went on, Gotovina's defense counsel Kehoe started the cross-examination. He was trying to prove that his client didn't have any authority over the units that remained in the liberated territory after Operation Storm, because Gotovina had already moved on with his troops, and was engaged in new operational combat tasks. The British general agreed with the argument.
After Mladen Markac's defense lawyer asked the witness some questions, prosecutor Hederaly started his cross-examination. He went back to the witness's claim that Cermak had no authority over the HV units 'passing through' the Knin Garrison area, but only over the units billeted in the Garrison buildings. The prosecutor quoted from the HV Rules of Service which state that 'all units in the garrison are subordinated to the garrison commander'. Only a literal interpretation of the rules would support the prosecutor's argument, Deverell said. According to the witness, this would be a misinterpretation of the rules, because it would mean that Cermak had authority over every soldier travelling in his car through the Knin Garrison territory.
The cross-examination continues tomorrow.