Home
CROATIA WAS DEFENDED FROM BH
Ivan Beneta, brigadier general in the Croatian Army, contends that 'Croatia had no other way to defend itself' but to send its troops to BH and prevent the JNA from taking over a swath of Croatian territory up to the Virovitica-Karlovac-Karlobag line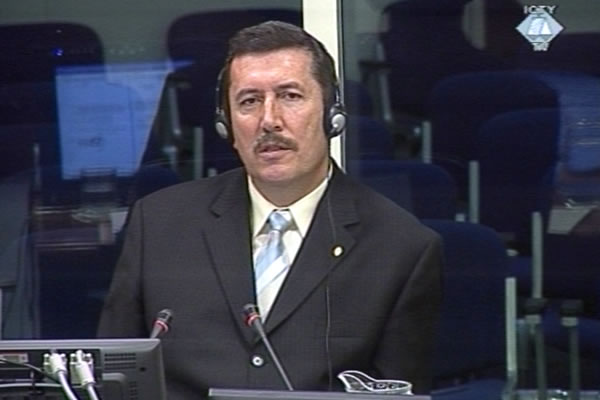 Ivan Beneta, svjedok odbrane Milivoja Petkovića
Brigadier general Ivan Beneta, assistant chief defense inspector for the military sector, is testifying as a defense witness for the former chief of the HVO Main Staff Milivoj Petkovic. The witness has known the accused Petkovic from their time in the former JNA when both of them worked in the reserve officers' school in Zadar. Beneta remembers Petkovic as a 'successful officer'.
Beneta left the JNA in July 1991 to join the Croatian Army as a volunteer. Apart from defending Zadar, Split and Dubrovnik, in 1992 and 1993 Beneta fought in BH on two occasions. In July 1992 the witness fought in the ranks of the HV 4th Guards Brigade to wrest Stolac from the JNA. In July 1993, Beneta fought in the HVO ranks in Operation South against the BH Army in the Neretva river valley. The witness contends that the HV troops did not penetrate deeper than 20 to 25 km into the BH territory to 'defend Croatia'.
Petkovic's defense brought up the findings of military expert Milan Gorjanc, who concluded in his expert report that a country had the right to cross into the territory of another country if it was attacked from there. Gorjanc thus confirmed the defense argument that the JNA attacked Croatia from BH, which prompted the Croatian Army to cross into the BH territory. Gorjanc illustrated his findings with a map where he showed that in May 1991 the JNA intended to capture southern Croatia from Split to Dubrovnik by attacking from Livno and Stolac.
Beneta argued that the JNA had prepared a plan, codenamed 'S2', for an attack on Yugoslavia from abroad. In Beneta's words, the plan corresponds fully with the plans shown on his map. According to Beneta, it transpired later that the 'actual meaning' of the S2 plan was to let the Serbian troops enter the Croatian territory in an effort to implement the plan to create a Greater Serbia which was to have the Virovitica-Karlovac-Karlobag line as its border. Given that this was the JNA's goal, Croatia 'had no other way to defend itself' but to cross into the BH territory with its forces and prevent the JNA from advancing.
The prosecution will cross-examine Beneta tomorrow.