Home
KARADZIC TO GO ON TRIAL ON 26 OCTOBER
The Trial Chamber with Korean judge O-Gon Kwon presiding has scheduled the trial of Radovan Karadzic to start on Monday, 26 October 2009 at 9 a.m. The prosecution will first call evidence on the counts in the indictment pertaining to the crimes in Sarajevo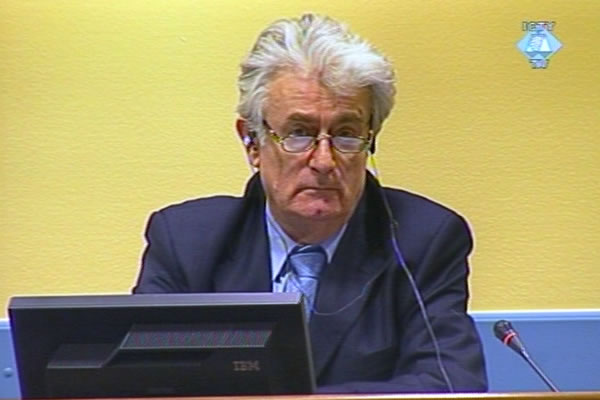 Radovan Karadžić u sudnici Tribunala
The trial of former Republika Srpska president Radovan Karadzic, charged with double genocide and other crimes from 1992 to 1995 in BH, opens on Monday, 26 October 2009 at 9 a.m. in the Courtroom I, as indicated in the scheduling order made public today and signed by Korean judge O-Gon Kwon. The prosecution will have two days to deliver its opening statement, on 26 and 27 October 2009, and Karadzic will present his opening statement in the first week of November.
In the meantime the prosecution has submitted the list of witnesses scheduled to appear in the first two months of the proceedings. Judging by the witness list, the prosecution plans to first call evidence on the crimes in Sarajevo. The prosecution was granted a total of 300 hours to present its case. The prosecution will not get more than that and will have to conduct both the examination-in-chief and re-examination of all its witnesses in that time, including the witnesses on its 'reserve witnesses list'. The lead prosecutors in the Karadzic case are American lawyer Alan Tieger and Hildegard Uerz Retzlaff from Germany.
According to the guidelines for the trial, Karadzic, who is defending himself, will be accompanied in the courtroom by his legal adviser Peter Robinson. Robinson will address the Trial Chamber on legal issues. Karadzic's legal adviser Marko Sladojevic will also be present, as will a case manager.
The Trial Chamber consists of Judge O-Gon Kwon, presiding, and judges Howard Morrison, of Great Britain, Melville Baird, Trinidad and Tobago, and Flavia Lattanzi, Italy, as a back-up judge.