Home
KARADZIC ANNOUNCES HE WOULD DEBUNK 'SREBRENICA MYTH'
Former Bosnian Serb leader Radovan Karadzic announced his intention to 'clarify what had happened in BH and in Srebrenica in particular' during the upcoming trial expected to begin in September 2009. Defense experts plan using DNA analysis to contest everything related to the Srebrenica victims: their number, identity and time and place of death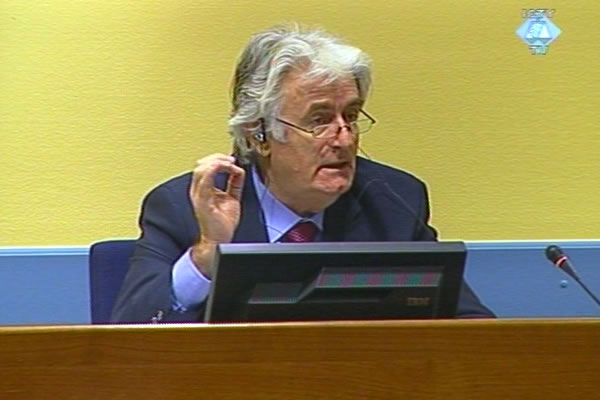 Radovan Karadzic in the courtroom
At a status conference in the case against the former Republika Srpska president Radovan Karadzic, the accused noted that his trial, expected to open in September 2009, was the 'final opportunity to shed light on what happened in BH and in Srebrenica in particular'. The identification of the Srebrenica victims, Karadzic indicated, will result in a number of startling revelations.
Karadzic intends to contest the expert findings on the Srebrenica victims. He has asked to be given 'equal resources as the prosecution'. Among other things, Karadzic wants to be given postmortem results and DNA samples of all the victims from Srebrenica; his experts could then take a random sample of 300 and prove that there are mistakes in the prosecution expert reports. The accused contends that 'creating the myth based on false facts about Srebrenica may cost Europe dearly' because, in Karadzic's words, 'it gives legitimacy to the wrath of certain elements that can then turn that wrath on Europe'.
Karadzic also argued that 'everything about Srebrenica is controversial'. The gravestones bear names of living persons, the graves have been moved, persons reported as missing have voted in the elections, he said, adding that the victims who had been killed before July 1995 were all put together and presented as the victims of the Srebrenica massacre. Although Karadzic admitted that there 'were several hundred – not thousands – cases where it could be assumed that the victims were bound and executed as prisoners of war', he argued that 'a criminal case cannot be generalized to establish the truth and the responsibility of a whole nation'. Admitting that he didn't understand many of the things the accused said in his request, Judge Bonomy ordered the OTP to meet with Karadzic's legal advisors to clarify the issue.
Karadzic announced that he would 're-examine' not only Srebrenica but also all other incidents listed in the indictment. He is in fact 'looking forward to it', as he said today. Singling out the Markale town market massacre, Karadzic said 'those I know not to be guilty have been sentenced to life in prison'. Noting that the defense would 'be given an opportunity to call all the relevant evidence' Judge Bonomy expressed his doubt that the 'individual criminal responsibility of others may be relevant for Karadzic's trial' warning Karadzic not to expect to be allowed to 're-try other trials'.
At the last status conference, the prosecution was invited to 'begin considering ways to shorten the trial'. Yesterday, the Trial Order issued a formal order to the prosecution to submit a written proposal for decreasing the scope of the case by 14 August 2009. Judge Bonomy today extended the deadline by two weeks and urged the prosecution to 'focus on all options that would secure an expeditious trial'. The options, the judge reminded the prosecution, are reducing the number of counts in the indictment or limiting the number of locations of crimes on which the evidence would be called.