Home
KARADZIC DENIES RESPONSIBILITY FOR TWO MARKALE EXPLOSIONS
Former Bosnian Serb leader has asked the Trial Chamber to issue an order to the government of Norway compelling it to deliver documents that, according to him, prove that the USA armed the BH Army. Karadzic also wants the Norwegian intelligence service to provide documents that, he claims, confirm that the BH Army, not the VRS, was responsible for both explosions at the Markale town market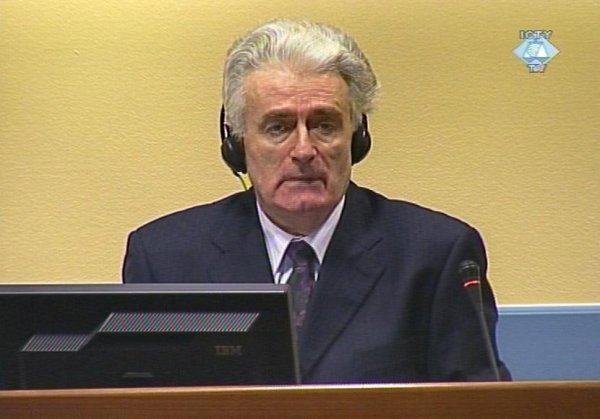 Radovan Karadzic in the courtroom
Former president of Republika Srpska Radovan Karadzic has asked the Trial Chamber to issue an order to the government of Norway compelling it to deliver a series of documents related to the alleged delivery of arms at the Tuzla airport in 1995 and relating to efforts of the international community to cover it up. Karadzic has also asked for the reports drafted by the Norwegian intelligence service about the shelling of the Markale town market in Sarajevo.
Referring to a book
Intelligence and the War in Bosnia
by Cees Wiebes, Karadzic argues that a member of the UNPROFOR Norwegian Battalion witnessed the drop off of suspected arms to the BH Army – first in the evening of 10 February 1995, and then on a number of occasions in February and March 1995. Two Americans in plain clothes unpacked the shipment in a warehouse in Tuzla. At the time, Karadzic continued, there was an arms embargo in force in BH and BH was declared a no-fly zone.
The Norwegians, Karadzic notes, drafted reports on those incidents, causing some concern to the UN. As Karadzic put it, "apparently, the United States intervened and required" the Norwegian officer to "write a second report, contradicting his earlier report". According to Karadzic, the US officers threatened a Norwegian officer and the US secretary of defense "issued denials that the US had been involved in shipping arms to the Bosnian Muslims in Tuzla".
The BBC conducted an investigation, Karadzic argued, showing that the Americans organized the deliveries of arms and military equipment to the BH Army and then tried to cover up the shipments. An investigation launched by the Dutch government, Karadzic claims, uncovered records showing that 40 machine guns and other equipment were delivered from Tuzla to Srebrenica on 14 February 1995. Both areas had been declared UN safe zones but the BH Army used them to launch attacks against the Bosnian Serb forces from there, Karadzic noted.
The accused referred to Wiebes's book and the Dutch government report once again when he spoke about the two incidents when shells hit the Markale town market, on 5 February 1994 and 28 August 1995. Although the Bosnian Serbs were blamed for the incidents, Karadzic contends that the intelligence services of numerous countries – Canada, UK, Denmark, Sweden, Norway, Belgium and Holland – established that the BH Army was responsible for the shelling, because it "attempted to show the Bosnian Serbs in a bad light and to obtain intervention on their behalf by the international community'. This has prompted Karadzic to request that 'all reports of intelligence or security services or UNPROFOR members from Norway concerning the killings at the Markale town market in Sarajevo" be disclosed to him.