Home
PRALJAK: WE LIED TO OURSELVES
While 'billions' in foreign donations went into Muslim pockets, Croatia provided arms and aided the defense effort in BH even when it became obvious that some of the weapons would be used against Croats in Herceg Bosna, General Slobodan Praljak claims as his evidence continues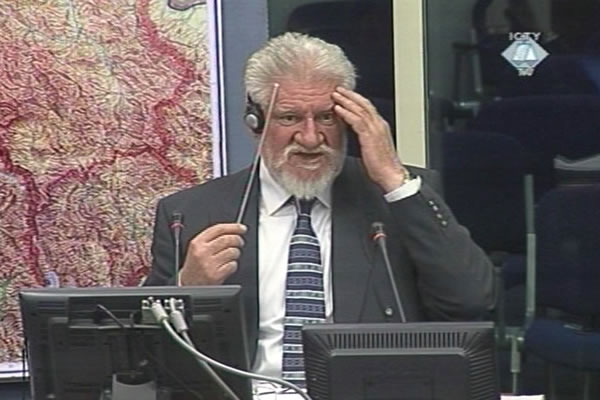 Slobodan Praljak svjedoči u svoju odbranu
Former commander of the HVO Main Staff Slobodan Praljak continues his evidence in his defense. Praljak accused Alija Izetbegovic and his closest associates Haris Silajdzic and Ejup Ganic of collecting money from Islamic countries and using it to help Muslims only.
The Croat representatives knew nothing of those activities of the Muslim leadership and, according to Praljak, it was illusory to say that during the war Izetbegovic represented the state of BH. 'Croats in BH got absolutely nothing of that aid', Praljak argued.
On the other hand, Praljak went on, while 'billions' in foreign donations went into Muslim pockets, Croatia provided arms and aided the defense effort in BH even when it became obvious that some of the arms would be used against Croats in Bosnia. 'We were aware of that and we lied to ourselves that this would not happen because we knew we could not take the risk of Serbian troops advancing any further', the accused said.
Praljak and his defense team prepared a summary of aid Croatia provided to BH during the war. The summary is illustrated by documents from the Croatian State Archive and its Military Archive and documents Praljak's defense received from Muslims who organized aid for BH in Croatia during the war.
It is interesting that among the documents Praljak used in his evidence is a report Rasim Delic, former commander of the BH Army General Staff, drafted for Praljak's defense. The report, according to the accused, lists all the aid in weapons provided by Croats to the BH Army. The details were not discussed today.
Prosecutor Douglas Stringer noted that for the prosecution the fact that Croatia supplied weapons to BH during the war via Herceg Bosna territory was not controversial at all: this was the only way to deliver the weapons to BH Army. What matters for the prosecution is the time when the deliveries stopped and areas that were supplied.
The prosecution alleges that the flow of weapons via Herceg Bosna was interrupted during the Croatian-Muslim conflict from 1993 to 1994. In that period, Croats were supplying arms only to those parts of BH where the BH Army held the lines against the common enemy, Serbs.
The accused Praljak contends that weapons were delivered continuously from the beginning to the end of the war, with brief disruptions in the second half of 1993. According to Praljak, this is proof that there could not have been any kind of a joint criminal enterprise aimed at annexing parts of BH to the neighboring Croatia.