Home
SESELJ VS. DEAD WITNESSES
At the first hearing on administrative issues since his trial was adjourned, Vojislav Seselj opposed the prosecution motion to tender into evidence statements and transcripts of testimony of two witnesses who have died in the meantime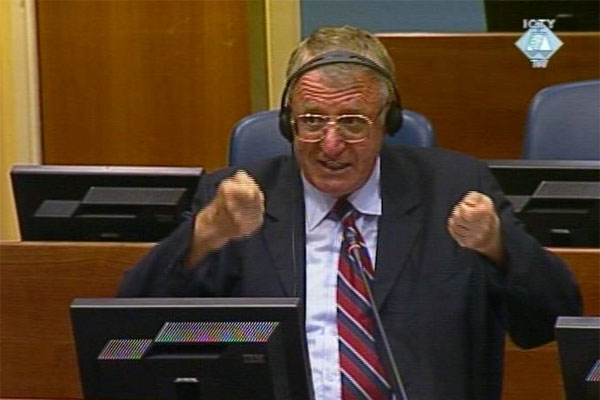 Vojislav Seselj in the courtroom
The trial of Vojislav Seselj was adjourned in February 2009 until further notice ' because of threats to the integrity of the trial' and threats to the witnesses. Now the Trial Chamber has decided to schedule hearings to deal administrative issues every two weeks. The first such hearing was held today. It opened with a brief theoretical debate between presiding judge Antonetti and accused Seselj on developments in international law. Then it continued to address some current issues.
The accused objected to the prosecution's motion to admit into evidence statements given to the OTP and transcripts of earlier evidence given by two witnesses who are now deceased. Vojislav Jekic was expected to give evidence on the involvement of the SRS volunteers in the takeover of Zvornik. The other witness is late Aleksandar Filkovic, former company commander in the JNA 51st Mechanized Battalion, who fought in Vukovar in the fall of 1991.
In the recently published motions, the prosecution notes that those witnesses do not speak directly of the responsibility of the accused. If that were the case, the witnesses' statements and testimony could not be tendered into evidence, according to the Tribunal's Rules on Procedure and Evidence, because the accused would not be able to cross-examine them. In 2008, the Trial Chamber refused to admit into evidence a transcript of testimony given by the late Milan Babic in the Slobodan Milosevic trial because the transcript 'speaks directly of Seselj's responsibility'.
Finally, the hearing today was marked by an exchange between Seselj and the prosecution on who was to blame for 'stalling' the trial. The accused argued that the prosecution managed to get the trial adjourned to be able to 'buy the time' and obtain new evidence against him in the meantime. Prosecutor Mundis 'categorically denied' this, adding that in the years that preceded the trial, many things had to be postponed as the 'consequence of the behavior of the accused'.
The next 'administrative hearing' at the trial of the Serbian Radical Party leader is scheduled for 26 March 2009, provided there is a courtroom available.