Home
SESELJ TRIAL SUSPENDED
The Trial Chamber has granted the prosecution motion to suspend the Vojislav Seselj trial 'until further notice' because of 'the danger that the integrity of the proceedings will be compromised' and because of threats to prosecution witnesses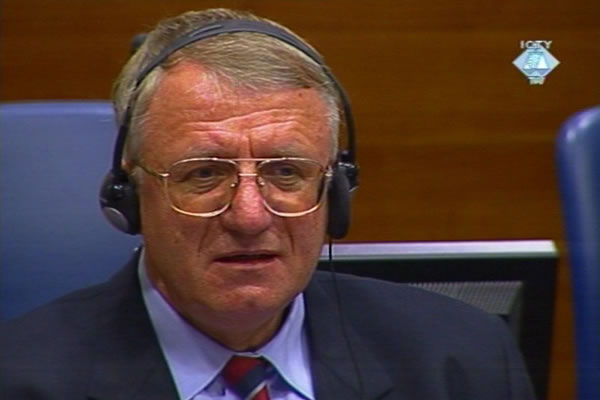 Vojislav Seselj in the courtroom
The trial of the Serbian Radical Party leader Vojislav Seselj has been suspended 'until further notice', it was announced at the Tribunal today. The decision was reached with a majority of votes: judges Harhoff and Lattanzi voted to suspend the trial, with the presiding judge Antonetti dissenting.
On 15 January 2009 the prosecution submitted a motion to suspend the trial because 'there is clear evidence showing that the integrity of the proceedings has been compromised' by threats to one of the prosecution witnesses whose evidence was given in closed session. Prosecutor Mundis then noted that the 'Trial Chamber is obliged to protect the integrity of the proceedings which should be fair both for the accused and the prosecution', and to ensure at the same time that witnesses and victims are treated with respect.
The decision delivered today states that the majority found that in the present circumstances, the examination of the remaining prosecution witnesses 'would not be in the interest of justice because the Trial Chamber could not guarantee them freedom of evidence, safety and the integrity of the proceedings'.
On the other hand, Judge Antonetti believes that before the trial was suspended, the Tribunal should have applied the rules on contempt of court and prosecuted witnesses who refused to appear before it. Antonetti also believes that the prosecution should be called to submit a formal motion to tender into evidence prior statements of the witnesses pursuant to Rule 92
quarter
. This rule applies when witnesses are unavailable because they have died or for other reasons. Judge Antonetti also opposes the suspension of the trial at this stage because the accused has spent almost six full years in the Tribunal's detention unit. As Antonetti noted, the suspension of the trial violates Seselj's right to an expeditious trial.
After the Trial Chamber decision was delivered, Judge Antonetti sad that another prosecution witness will give evidence next week under the pseudonym VS-1029, despite the suspension. The prosecution pre-trial motion indicates that this witness will speak of the involvement of Seselj's war leaders in the crimes against non-Serbs in Bijeljina. After his evidence, the trial will be suspended until the Trial Chamber decides to restart it.
In his reaction to this decision, Seselj today said that in his view the process 'lost its integrity a long time ago because of false witnesses'. Seselj accused the USA, NATO and the EU for trying to 'hamper' the completion of the trial in a 'natural and fair way'; in order to do that they are ready to blame him for 'the murder of John Kennedy or the Hiroshima bomb'.
In the meantime, Seselj has been
charged with contempt of court
for disclosing the identity and evidence of three witnesses. ICTY spokesperson Nerma Jelacic today said that an
amicus curiae
prosecutor would soon be appointed in that case.
Vojislav Seselj is charged with crimes against humanity committed in Croatia, Vojvodina and BH from 1991 to 1993.