Home
LIVING PEOPLE LISTED AMONG PIONIRSKA STREET VICTIMS
The prosecution requested today that names of four persons be deleted from the victim list for the Pionirska Street. The defense counsel of Milan Lukic claims that the problem could not be solved by simply 'deleting names'; according to the defense, those errors 'influence the case in a more significant manner'.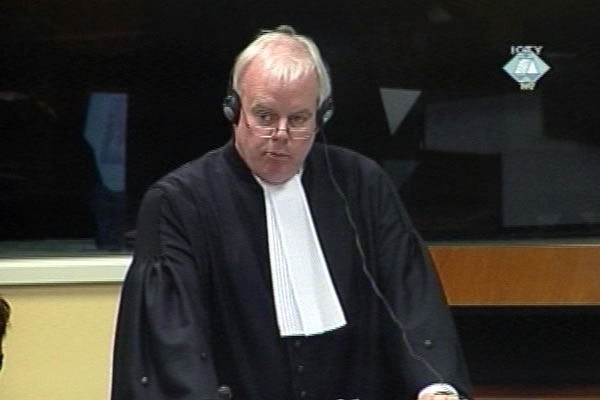 Dermot Groome, prosecutor in the Tribunal
At the trial of Milan and Sredoje Lukic the protected witness testifying under the pseudonym CW-1 completed her evidence today. The Trial Chamber summoned the witness to testify in The Hague when it was established that her name was on the list of victims killed in the Pionirska Street in Visegrad. As alleged by the indictment, on 14 June 1992 dozens of Muslim women, children and old men were burned alive there. In her evidence yesterday, mostly in closed session, the witness confirmed that she left Visegrad two weeks before the crime in the Pionirska Street. The witness could not understand how she and her two daughters got onto the victim list.
The witness described today how on 29 May 1992 Milan Lukic got on the bus with the refugees leaving Visegrad and asked her about her husband. When the witness told Lukic that her husband and son were in another vehicle at the same check-point, Lukic left the bus. He took one passenger with him. The witness didn't know what happened at the checkpoint later. She has never seen her husband and son again.
When the witness completed her evidence, prosecutor Dermot Groome requested that four members of her family be deleted from the victim list for the Pionirska Street, adding that it in no way changed the contents of the indictment.
[IMAGE]3760[/IMAGE]Jason Alarid, Milan Lukic's defense counsel, maintained that there were more living persons among the victims, challenging the validity of the victim list attached to the indictment. Alarid accused the prosecution demographics experts of 'artificially putting together the victim lists'. The problem, Alarid argued, could not be solved by merely 'deleting some names' because the errors in his view 'influence the case much more' than the prosecution wanted to admit. The indictment against Milan Lukic, Alarid noted, is 'based on rumors' and not thorough investigation on what had really happened in Visegrad.
In his reply, the prosecutor pointed to the motion dated 16 March 2009 where prosecution demographer Ewa Tabeau presented her comparative analysis of the data for all the names listed as victims contested by the defense. The analysis was conducted by comparing the place and date of birth, personal identification number, date and place of disappearance according to information of the International Red Cross, the 1991 census, the post-war voters' lists and then correlating the data. In the motion, the prosecution allowed the possibility that some names were mistakenly put on the victim list but not more than four.
The trial of Milan and Sredoje Lukic, charged with murders and torture of Visegrad Muslims, continues tomorrow.