Home
WITNESS: 'CERMAK DIDN'T COMPLAIN'
Referring to military intelligence documents, General Cermak's defense has implied that immediately after Operation Storm the Knin Garrison command was not able to operate properly as chaos reigned in Krajina. The prosecution military expert replied that in the large volume of Croatian Army documents dealing with the period he was unable to find a single report where Cermak complained about problems in doing his job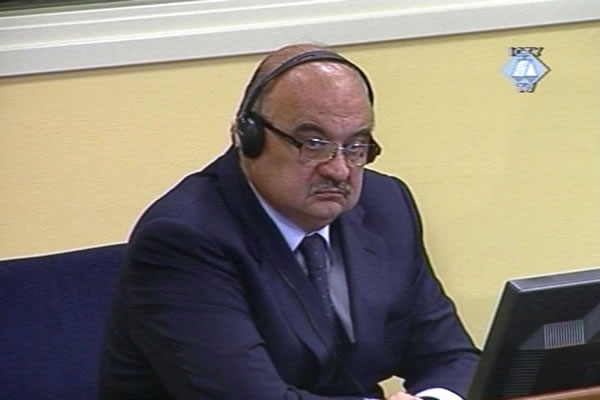 Ivan Cermak in the courtroom
In his expert report about the structure and operation of the Croatian armed forces, prosecution military expert Reynaud Theunens maintained that Ivan Cermak, Knin Garrison commander, had authority over the military police, as had General Ante Gotovina. At the beginning of the cross-examination, Cermak's defense counsel Steven Kay attempted to contest this claim.
The defense counsel put it to the witness that under the Croatian military rules, a garrison command was not authorized to issue orders to military units 'except when they relate to order and discipline within the territory under its control'. As the defense counsel put it, this means that Cermak had no authority over the military police. The witness didn't agree, saying that every commander issuing orders related to 'order and discipline' had to be able to verify if those orders were implemented in practice. The 'best way' to do it was to use military police units, Theunens said.
Military intelligence reports drafted immediately after Operation Storm mention problems in the functioning of the newly established authorities in the liberated area and their inability to cope with the chaos and deal with 'groups of civilians cruising the area, out of control'. When asked why he didn't take into consideration the fact that the Knin garrison command was not able to operate regularly and why this was never noted in his report, Theunens replied that he never saw any documents where Cermak complained about 'not being able or not having enough personnel to continue doing his job'.
Since in his expert report the witness noted that General Cermak exercised 'civilian and military authority' in the garrison area that comprised Knin and six adjacent municipalities, the defense counsel asked him why he didn't include this conclusion in the three 'draft versions' of his report the defense had been given access to following a Trial Chamber decision. Theunens stated that in the end, when he reexamined all the documents he used in drafting his report, he decided to rephrase it.
General Cermak's defense continues its cross-examination of the witness tomorrow.