Home
WIDE RANGE OF CERMAK'S 'CIVILIAN' POWERS
As the cross-examination of the prosecution military witness continues, the defense has tried to prove that after Operation Storm General Cermak had only 'civilian powers', taking care of various issues ranging from water supply to procuring prosciutto to be served at meetings with foreign delegations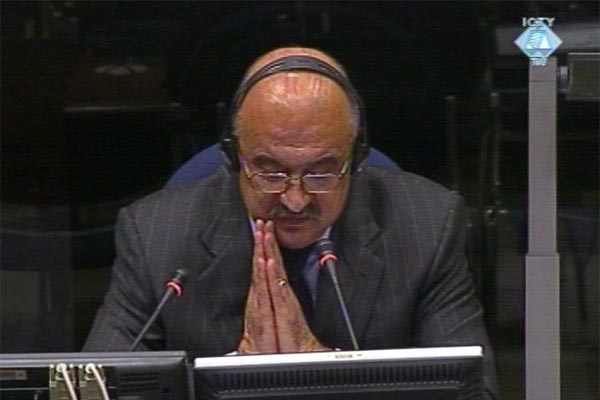 Ivan Cermak in the courtroom
Cermak's defense counsel Kay today tried to prove that his client, who was the Knin Garrison commander after Operation Storm, held only 'civilian' powers, contrary to what prosecution military expert Reynaud Theunens has claimed. In his report, Theunens said Cermak had 'military/civilian powers'. Tendering into evidence a series of documents about the tasks the accused general was busy performing from August to October 1995, the defense argued that Cermak's priorities were logistic issues and re-establishment of normal life in the newly liberated territory.
Cermak's orders and correspondence with other officers shown today in court indicate he dealt with various problems, from water supply and cleaning of the town to the organization of cultural and art events and aid to churches and kindergartens. Cermak even obtained prosciutto to be served at the meetings with foreign delegations and was busy trying to set up a snack bar called Zdravljak. The witness didn't contest the defense claims that the accused did those things, saying that he was aware of the fact that one of Cermak's task was 'to get life in Knin back to normal'.
Since Theunens in his report quoted a number of military orders issued by General Cermak, the defense counsel implied that Cermak had difficulties dealing with such situations because he 'lacked authority' over the Split Military District units. The witness agreed in part with this explanation, saying that normal procedure implied that the Knin Garrison commander should in some situations address the commander of the Split Military District – at that time it was General Ante Gotovina – to obtain his approval for the use of units.
After he enumerated various activities Cermak was engaged in after Operation Storm, the defense counsel put it to the witness that as the Knin Garrison commander, Cermak 'had a work overload'. In his reply, Theunens said that none of the numerous documents he analyzed in drafting his expert report indicated that General Cermak complained of not being able to finish the tasks he had been given.
The evidence of Belgian military expert will continue tomorrow at the trial of generals Gotovina, Cermak and Markac for crimes during and after Operation Storm.