Home
DEFENSE DENIES GOTOVINA'S LINK WITH MILITARY POLICE
The defense of the accused Croatian general continues denying that the military police was subordinate to Gotovina, but the prosecution military expert remains adamant that Gotovina 'exercised operational command' over those units while Mate Lausic, military police administration chief, was at the top of the 'professional chain' of command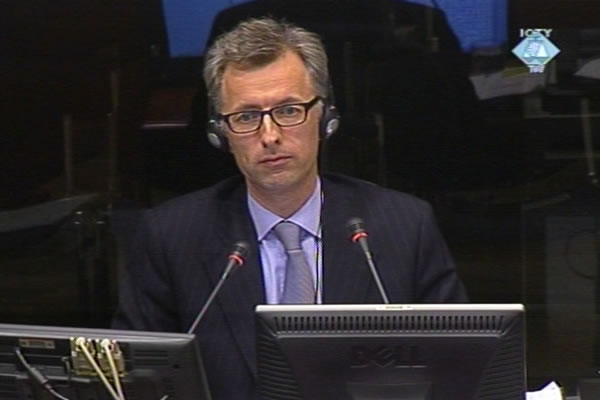 Reynaud Theunens, witness in the Gotovina, Cermak and Markac trial
On the second day of the cross-examination of Belgian military expert Reynaud Theunens, defense counsel Luka Misetic continued to contest Theunens's claim that General Ante Gotovina exercised 'operational command' over the military police in Krajina during Operation Storm in August 1995. At that time, as alleged in the indictment, a number of crimes against Serb civilians and their abandoned property were committed and now Croatian generals Gotovina, Cermak and Markac are on trial for them.
The defense counsel today showed the witness a number of minutes from the meetings held immediately before Operation Storm was launched, where the interior ministry and defense ministry officials discussed 'security plans' for the involvement of civilian and military police in the forthcoming combat operations. Neither General Gotovina nor anyone from the Split Military District attended those meetings. However, the chief of the military police administration Mate Lausic did attend them; this prompted the defense to claim that he had 'operational command' over the military police units.
The witness nevertheless stuck to what he said in his expert report: Lausic issued instructions to the Military Police only through the 'professional' chain of command, while Gotovina issued orders. The witness brought up a document dated 9 August 1995 where Lausic 'kindly asks' General Gotovina, as the Split Military District commander, to release the military police units from combat duty and allow them to go back to their regular activities.
According to the defense, the fact that Major Ivan Juric, assigned to coordinate the activities of the 72nd and 73rd Military Police Battalions, sent reports only to Lausic further proves that Gotovina did not have operational command over the military police. Theunens confirmed that the military documents he saw didn't say that Juric reported to Gotovina. However, as the witness sees it, this doesn't mean that Juric couldn't have gotten orders from the Split Military District command.
Defense counsel Misetic will continue his cross-examination on Friday since no hearing is scheduled for tomorrow.