Home
DEFENSE: CERMAK 'WAS NOT PART OF CHAIN OF REPORTING'
General Ivan Cermak's defense has tried to prove that after Operation Storm ended, a number of civilian and military police reports never reached the Knin Garrison. Prosecution military expert Reynaud Theunens has admitted that he was surprised to see that some of those documents were not addressed to the accused general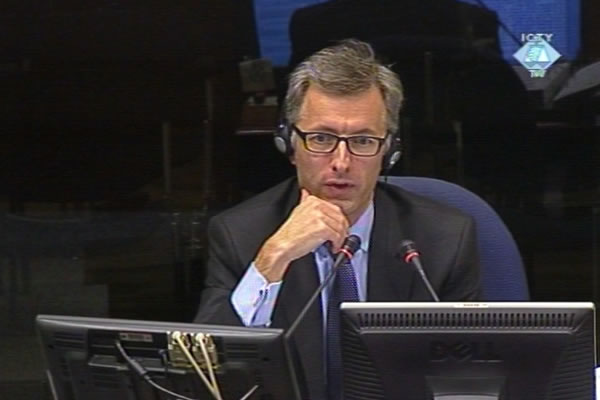 Reynaud Theunens, witness in the Gotovina, Cermak and Markac trial
On the twelfth day of his evidence, prosecution military expert Reynaud Theunens was cross-examined by General Cermak's defense. Steven Kay focused on contesting the claims Theunens made in his expert report to the effect that after Operation Storm General Ivan Cermak had command authority over both the civilian and military police in Knin and neighboring municipalities. Cermak was the Knin Garrison commander at the time. Now he stands trial together with generals Ante Gotovina and Mladen Markac for crimes perpetrated by the Croatian army and police against Krajina Serbs and their property in the summer and fall of 1995.
The defense counsel first challenged Theunens's claim that Cermak had authority over the MUP units conducting clean-up operations immediately after Operation Storm. Those units, among other things, removed 50 bodies from the Knin area and buried them in the local cemetery. The witness said that Cermak was in control of the Knin Civilian Protection Staff, which was part of the MUP, but didn't control the clean-up teams in the field.
When he was shown a series of documents indicating that the chain of reporting about the clean-up operations in the Knin area did not include the Knin Garrison, but only the MUP, Theunens said that everything was done in cooperation with the military authorities, and Cermak was their representative. The witness admitted that he failed to include the police documents that were not addressed to the accused general in his report, but he rejected the defense allegation that he did it because the documents didn't fit in his 'one-sided approach'.
As today's hearing drew to a close, the defense counsel broached the topic of military police's subordination to General Cermak, arguing that Cermak was not part of this chain of reporting. Defense counsel Kay showed the court a series of military and police reports sent to various recipients but not to the Knin Garrison. One of the documents is a report of the 72nd Military Police Battalion dated 31 August 1995 saying that three Croatian soldiers stole 'a lot of furniture' from an abandoned house; a fourth soldier 'had some problems with a civilian'.
Theunens remarked that he himself was surprised that the report wasn't sent to Ivan Cermak who was in charge of maintaining 'order and discipline' in the Knin area. As the defense counsel noted, the defense had in its possession a number of similar documents. The witness based his claim about Cermak being superior to the military police on Cermak's orders about the freedom of movement for UN members and civilians; those orders were sent to military police units in the field.
Reynaud Theunens will continue his evidence next Tuesday.