Home
GOTOVINA'S AUTHORITY OVER THE HV(O)
The defense has not denied that General Ante Gotovina was authorized to institute disciplinary proceedings against members of HV troops. It has denied that as the commander of the 'occupying force' in BH, Gotovina had the same authority over HVO units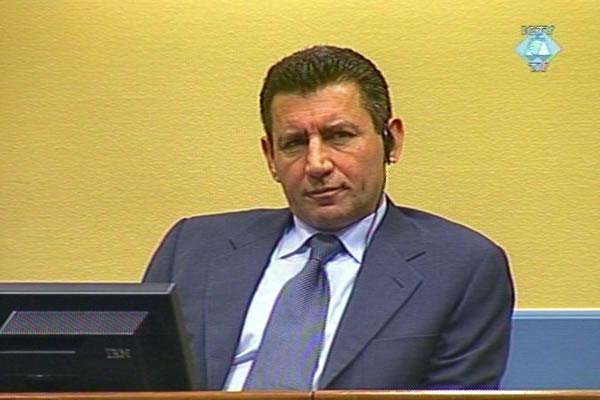 Ante Gotovina in the courtroom
In the summer and autumn of 1995, General Ante Gotovina exercised command over a number of Croatian Army (HV) units, and over elements of the HVO, the armed force of the BH Croats. Prosecution military expert Reynaud Theunens maintained in his report that in the course of Operation Storm Gotovina failed to punish perpetrators from the HVO ranks under the command of the Split Military District. Defense counsel Luka Misetic today tried to prove that the general did not have the power to do so.
The defense counsel put it to the witness that the HVO was the armed force of another state; Gotovina did not have the power to discipline its troops despite the fact that they were under his control during the operations Summer '95, Storm and Maestral. The defense counsel cited as an example the armed forces belonging to NATO member states that operate together in some situations under mutual command but do not meddle in prosecution policy when soldiers violate discipline. The defense counsel also noted that while the accused general operated in BH, he was the commander of 'the occupying force', while in Croatia he was the commander of 'the domestic force'. There is a substantial difference between the two, the defense counsel noted.
The Belgian military expert said that he had found documents in the Croatian military archives where Gotovina issues 'very strict' orders regarding 'order and discipline' in the HVO units. According to the witness, this means that Gotovina was able to impose disciplinary measures for violations. The witness however agreed that he had seen no documents where the commander of the Split Military District actually took measures against the HVO members. In the final analysis, Theunens contends, Gotovina was 'at least in a position' to learn about the crimes committed by the HVO soldiers and to report them to their regular commands.
On the eighth day of Reynaud Theunens' testimony, Ante Gotovina's defense completed its cross-examination. In the next five days the expert will be questioned by Ivan Cermak's defense. The defense of the third accused on trial for crimes committed during and after Operation Storm, Mladen Markac, has indicated that it will take one day to cross-examine Theunens.