Home
FINAL DESTINATION FOR THE EVACUEES
Retired colonel Kosta Novakovic claims the leadership of the former Republika Srpska Krajina planned 'a temporary evacuation' of the people from endangered municipalities and their transfer to Srb and Lapac. Ante Gotovina's defense counsel tried to prove that both Srb and Lapac were on the route to Banja Luka, according to the evacuation plan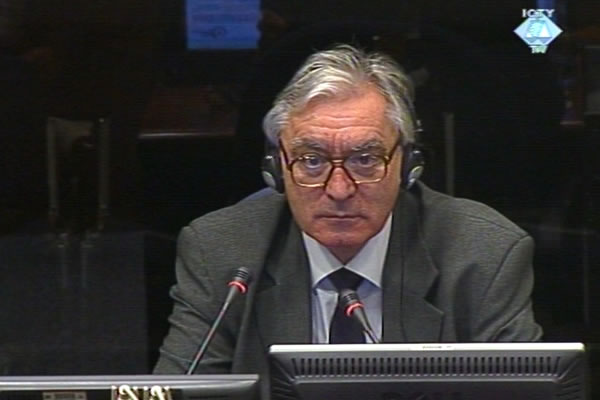 Kosta Novakovic, witness in the Gotovina, Cermak and Markac trial
When Operation Storm started, retired colonel Kosta Novakovic was assistant for information to the commander of the SVK Main Staff, General Mile Mrksic. He was one of the four authors of the plan to evacuate the Serb population from the former Republic of Serbian Krajina. The plan was drafted on 4 August 1995. At the beginning of his evidence he confirmed that the three statements he had given to the OTP investigators since 2001 were true. Novakovic's statements were then tendered into evidence.
The way in which the Serb population was evacuated from Krajina when Operation Storm was launched is one of the key issues at the trial of generals Gotovina, Cermak and Markac. If it is true that the civilians fled spontaneously, as alleged by the prosecution, after a deliberate and indiscriminate shelling of towns and villages, it could support the allegations in the indictment that the objective of Operation Storm was 'the permanent elimination of the Serb population from the Krajina territory'. If it is proven that the civilians were evacuated to BH and Serbia on the orders of the RSK leadership, as alleged by General Gotovina's defense, this might shift the responsibility away from the Croatian side.
The plan for the evacuation of the people from Krajina was agreed on 4 August 1995 between 4 and 5 pm, in accordance with the decision of the RSK Supreme Defense Council. As the witness stated in his examination-in chief, he personally drafted and typed the document that was then signed by Milan Martic, the RSK president. Novakovic explained that the plan envisaged 'a temporary evacuation' of the population from four municipalities in Northern Dalmatia: Knin, Obrovac, Benkovac and Drnis, and their transfer to Srb and Donji Lapac in Northern Krajina. The goal was, the witness noted, to 'organize' the movement of the population that had already started. The witness provided two examples, Obrovac and Plaski, where first refugee column had started forming in the early morning hours.
On 4 August 1995, Novakovic presented the evacuation plan at a meeting held around 6 pm; members of the Krajina Civilian Protection and the UN mission, headed by Alain Forand, the Sector South commander, attended the meeting.
In his cross-examination, General Gotovina's defense counsel showed notes taken by a UN staff member and a statement by the Knin Civilian Protection commander which note that at the meeting Novakovic said that Srb and Lapac were merely points on the route towards Bosanski Petrovac and Banja Luka, not final destinations. It was 'absolutely not true', Novakovic asserted today, adding that at that meeting he had read what was written in the document, where Srb and Lapac were listed as final points on the evacuation route. Banja Luka and Bosanski Petrovac were not mentioned at all.
The cross-examination of the witness continues tomorrow.