Home
CROATIAN AUTHORITIES IN KRAJINA VACUUM
The defense teams of Ante Gotovina and Mladen Markac do not deny the crimes against Serbs in Krajina and their property in the days following Operation Storm. However, they maintain the crimes could not have been prevented because 'the surprisingly quick military victory' left a power vacuum in its wake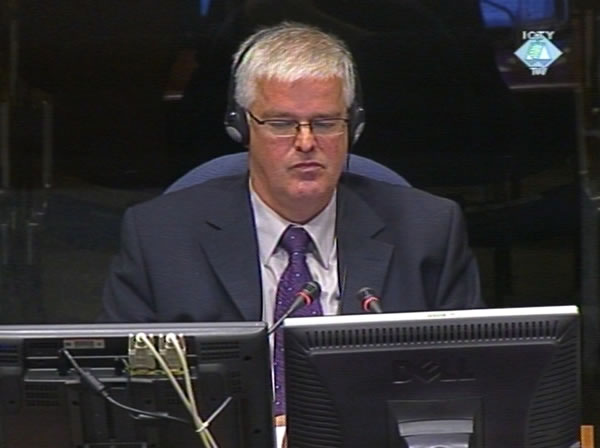 Eric Hendricks, witness in the Gotovina trial
As he continued his evidence today, Dutchman Eric Hendricks, European Community monitor in Croatia, was examined by the defense counsel of generals Mladen Markac and Ante Gotovina. Markac, Gotovina and Ivan Cermak were charged with crimes committed during and after Operation Storm. Both defense counsel didn't deny the fact that there had been crimes – looting and destruction of houses of the Serbs who had fled in particular – in the days following Operation Storm. However, those crimes were committed by Croats who had themselves been expelled from that area, and who were bent on revenge. This was impossible to control because there was a power vacuum.
According to Gotovina's defense counsel, the vacuum was the result of the 'speed of the military success which caught the Croatian authorities by surprise' ; the operation was planned to take seven days, but was over just 36 hours after it was launched. The civilian and military police in charge of security in Krajina were late coming into the area. The witness allowed that this might be the reason why murders, looting and arson hadn't been prevented. However, he noted, this vacuum could not have lasted long since the 'military governor' Ivan Cermak arrived in Knin only days after Operation Storm began.
In an effort to prove that the crimes stopped when the Croatian authorities established control over Krajina, Mladen Markac's defense counsel asked the witness if it was true that the murders, looting and arson 'stopped at one point'. 'I don't know, I was there until late October and the crimes didn't stop by then', the former monitor from Holland replied.
In his examination-in chief, Hendricks maintained that he and other European monitors made sure not to list houses destroyed from 1991 to 1995 - when Krajina was under Serb control - in their reports on the destruction following Operation Storm. This prompted defense counsel Kehoe to note that a document drafted by the European monitors stating 60 to 80 percent of the Serb houses in Sector South were destroyed goes on to list villages that had the Croatian majority according to the 1991 census. The witness explained that the list 'might not be complete' allowing for the possibility that some of the villages named there were actually destroyed before Operation Storm. However, he repeated that he and his colleagues made every effort to record only the damage caused after the arrival of Croatian security forces in Krajina.
The prosecution will call its next witness on Wednesday. Tomorrow the Tribunal will be closed because of a UN holiday.