Home
EMPTY PROMISES
Dutchman Eric Hendricks claims every time European monitors brought him reports about crimes against Serbs and their property General Ivan Markac promised he would take measures to prevent such incidents. However, the promises were 'not quite' being put to practice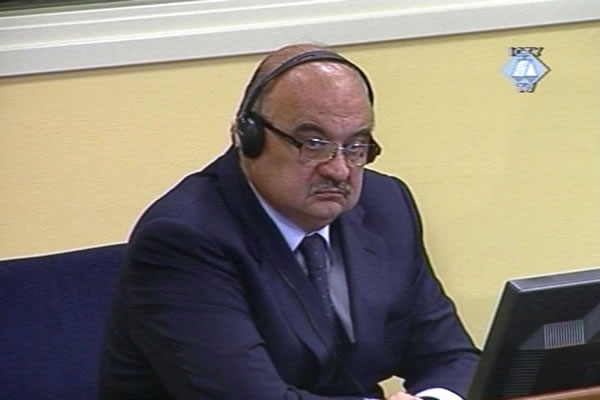 Ivan Cermak in the courtroom
In August and September 1995, Dutchman Eric Hendricks served in Croatia as a monitor in the ECMM – European Community Monitoring Mission. He and his colleagues reported many cases of looting and arson in the Knin area, and several murders of Serb civilians. Today at the trial of Croatian generals Ante Gotovina, Ivan Cermak and Mladen Markac the witness confirmed the authenticity of one such report claiming that 60 to 80 percent of the houses in the Krajina Sector South were destroyed partially or completely after Operation Storm. Yet another prosecution witness, Soren Liborius, Hendrick's Danish colleague from the ECMM, made the same claim in his testimony.
In the trial so far, the defense counsel of the three generals argued that the international monitors didn't distinguish between houses burned down between 1991 and 1995, during the so-called RSK, and those destroyed in Operation Storm and its aftermath. This prompted the prosecutor to ask the witness at the beginning of his examination-in chief how the monitors were able to determine when the damage was caused. As Hendricks explained, soot was lighter on houses set on fire earlier. Also, there was some vegetation in those houses, and they were not reported by the European monitors.
In some cases the European monitors didn't have to analyze soot to identify the perpetrators: they saw them on the spot. In the statement he gave to the OTP investigators in April 2008 the witness describes one such example. In the village of Biskupija his team caught Croatian soldiers red-handed: they were setting houses on fire 'not minding at all' that the international monitors were standing next to them.
Hendricks recounted another incident from the village of Vuksa in Krajina. As he patrolled the area, he discovered two bodies of two women, one with a gun-shot wound to the head and the other with an abdominal wound. As the witness contends, he and the other monitors reported the crimes against Serb civilians and their property regularly to local chiefs of police, and to 'the military governor' of the Knin area Ivan Cermak. The accused general promised he would take measures to prevent crimes, the witness said, adding that he didn't 'quite see' any changes in the field; the number of crimes didn't go down.
Cermak's defense has been arguing since the start of the trial that he was not the 'military governor', but the 'commander of the Knin garrison' comprising seven municipalities in Krajina. Defense counsel Cayley put it to Hendricks. 'Whatever he was called, he was the commander of the area', the Dutch monitor said.
Hendricks's evidence continues on Monday when he will be cross-examined by General Markac's defense counsel.