Home
HV SOLDIERS CARRIED TV SETS
Canadian intelligence officer Robert Williams is testifying at the trial of the Croatian generals charged with crimes during and after Operation Storm. He says he watched Croatian soldiers from the UN base in Knin where he was, carrying items he didn't expect to see in the hands of the soldiers: TV sets and other appliances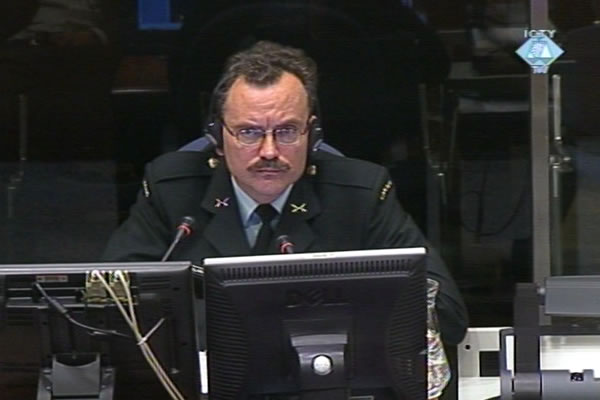 Robert Williams, witness in the Gotovina trial
Robert Williams, intelligence officer from Canada, was transferred from Zagreb to Knin on 3 August 1995, a day before Operation Storm began. He was sent there to gather information about the warring factions in Sector South. He remained in Krajina for just four days, enough for him to see the bodies of a number of Serb civilians and soldiers and to witness the looting and burning of abandoned houses in Knin.
In his evidence at the trial of Croatian generals Gotovina, Cermak and Markac, Colonel Williams recounted that the shelling of Knin was 'some sort of harassing fire' with civilian targets more than military ones. The objective was to force the inhabitants to flee, the witness claims, because the Serb army didn't have any defense positions in the town.
When the Croatian troops and police entered the town, the witness and most of his colleagues stayed inside the UN base; they had observed the shelling earlier on from there. On 5 and 6 August 1995, the witness saw members of the 7th Guards Brigade of the Croatian Army, also known as the Puma Brigade, around the base; the soldiers were drunk. He saw them carry items he 'didn't expect to see in the hands of soldiers' – TV sets and other appliances.
Describing the incident of 5 August 1995 when a shell killed five Serbs near the UN base, the witness said that some of the victims were in civilians clothes while other had uniforms on. Near them was a body of another victim who had been killed earlier. On that same day, the witness saw a body of a young Serb soldier near the base, in the area controlled by the Puma Brigade. The youth had been shot in the head.
The Canadian colonel left Knin on 7 August 1995 in a helicopter. From air, he could see many houses on fire. When the prosecutor asked him how many houses were burning, the witness replied, 'More than just a house here and there'.
Gotovina's defense counsel spent most of the time in the cross-examination contesting Williams' claim that there were no SRK defense positions in Knin before Operation Storm. All other issues were covered in the last half-hour of the hearing today. The defense lawyer commented on the death of five Serbs in front of the UN base in Knin on 5 August 1995, saying it was not established where the shell that hit them had been fired from. The witness agreed.
Denying General Gotovina's responsibility for the events after Operation Storm, defense counsel Kehoe showed the witness a report drafted by the European monitors on 7 August 1995. The report notes that the Croatian Army continued its way towards BH and 'undisciplined soldiers replaced the disciplined ones'; this resulted in an increase of the looting and destruction of Serb houses. Kehoe put it to the witness that Gotovina was 'very very busy' planning further actions of his units, but Williams didn't agree.