Home
THIEVES GUARDING STOLEN PROPERTY
Croatian police officer Ive Kardum contends that persons suspected of looting Serb property after Operation Storm were stopped at check points located throughout Krajina. When the criminal investigation was over, they were given back the stolen property to safeguard it pending the completion of trial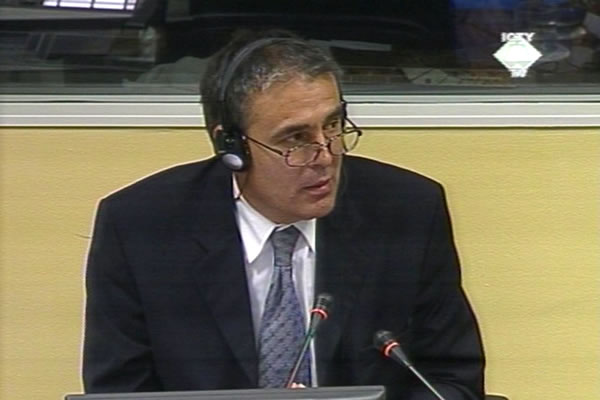 Ive Kardum, witness in the Gotovina trial
During his cross-examination today, former chief of the Zadar CID Ive Kardum agreed with almost everything the defense counsel of the accused generals Ante Gotovina and Mladen Markac put to him. Ivan Cermak's defense team decided not to cross-examine the witness. The general tone of mutual agreement was disrupted when the witness made contradictory claims, prompting the
presiding judge to intervene.
Many prosecution witnesses, primarily UN and EU monitors, claimed in their evidence that after Operation Storm nobody stopped the Croatian soldiers, police officers and civilians as they attempted to pass the check-points with the goods they had looted. Markac's defense counsel Goran Mikulicic showed several police documents in an effort to contest those claims: those were excerpts from the collection of some 500 receipts for temporarily seized property. The receipts that the defense managed to get hold of refer to property suspected of being stolen.
The presiding judge then intervened, asking for clarification of the decision to seize the goods 'only temporarily'. The witness said that the items could not have been seized permanently without a court decision. As Kardum explained, the suspects were taken from the check-point to the closest police station where they were interviewed by the police and then released; sometimes they were allowed to take with them the goods they had allegedly stolen with a warning not to sell them until the trial was over. 'Does that mean that the stolen goods were left in the custody of those you seized them from', the
presiding judge asked. The witness confirmed this, noting that it was 'standard procedure' when the 'goods were cumbersome', such as a herd of sheep or a dozen or so calves.
As his cross-examination continued, Kardum agreed with Gotovina's defense counsel Luka Misetic who contended that there were insufficient resources to investigate the crimes against Serbs and their property. Misetic implied that the military and civilian police officers couldn't leave check-points even if they wanted to, for security reasons. Therefore, they were not able to bring those suspected of stealing to police stations. This prompted the presiding judge to intervene once to point out that the witness was
inconsistent: his initial testimony was that persons suspected of looting were taken from the check-points to the police stations. In a sort of compromise Kardum replied that the transfer depended on the distance between the check-point and police station in question and the seriousness of the crime. Sometimes, he said, the police from other locations would come and pick up the suspects.
In an effort to prove that other crimes, not just looting, were prosecuted after Operation Storm, the defense counsel showed several police reports confirming that the murders of Serb civilians in the villages of Gosici and Varivode in August and September 1995 were
investigated. The witness confirmed that the investigations were thorough and that he himself took part in them. However, the two crimes are not among those listed in the indictment against the three generals.