Home
POLICE TOP OBSTRUCTED GRUBORI MURDER INVESTIGATION
Former Croatian MUP coordinator Stjepan Buhin continues his evidence at the trial of generals Gotovina, Cermak and Markac. Today he recounted how in late August 1995 the top police officials told him to stop investigating the murder of five Serb civilians in the village of Grubori and focus on the 'establishing public order and traffic issues'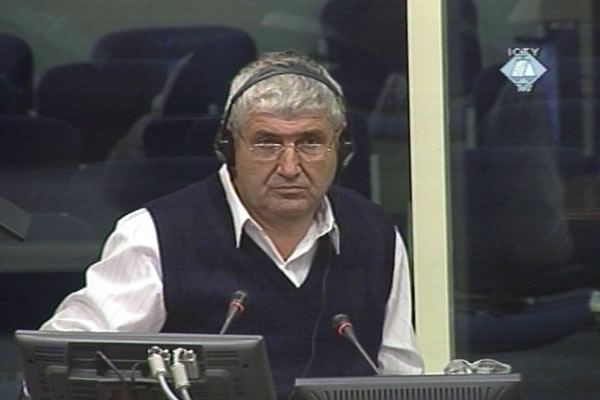 Stjepan Buhin, witness in the Gotovina trial
As Stjepan Buhin, former Croatian MUP coordinator for the Knin District, continued his evidence, the prosecutor asked him about the murder of five civilians in the village of Grubori in Krajina on 25 August 1995. This incident is listed in the appendix to the indictment against Croatian generals Gotovina, Cermak and Markac. The prosecutor showed the witness several classified documents relating to the incident and most of the evidence was taken in closed session. Parts of the testimony heard in open session indicated that today the witness didn't attempt to repudiate parts of the previous statements he gave to the OTP investigators in 2002.
In that statement Buhin said that he learned about the incident in the village of Grubori in late August 1995. He and Cedo Romanic, chief of the Knin police station, were determined to conduct a thorough investigation. However, they were stopped by high-ranking officials from the Croatian MUP.
Deputy commander of the special police Zeljko Sacic – Markac's deputy – came to Knin first; the witness and Romanic told him they intended to investigate the Grubori incident. Sacic told them that the killings would be treated as 'a consequence of Operation Storm'. Buhin found it strange, he said in his statement, and concluded that Sacic wanted to cover up the murder. Soon after his conversation with Sacic, the witness was called by Josko Moric, deputy interior minister; he was angry and asked Buhin why he was interfering in CID work instead of going about his business: establishing public order and traffic issues. Although Buhin did stop interfering in the investigation of the Grubori crime, he was pulled out of Knin some ten days after that.
The witness didn't repudiate parts of the statement he gave to the OTP investigators where he names General Ivan Cermak as the main military commander of the liberated area in the Knin District. This is why defense counsel Steven Kay attempted to refute it in his cross-examination. Kay asked the witness if he saw any documents that prompted him to reach this conclusion about Cermak's command over the Croatian Army. Buhin said he didn't, adding that his conclusion was based on the fact that Cermak was the highest-ranking officer the police talked to about coordinating actions with the army. Also, Buhin noted, Cermak was the only high-ranking military officer in the Knin area he heard of. Only later did he hear that General Ante Gotovina was also in Krajina.
As the hearing today drew to a close, General Mladen Markac's defense counsel began cross-examining the witness.