Home
WITNESS WAS 'SCARED' OF SOLDIERS
During his second day in court, former chief of the Zadar criminal investigation division Ive Kardum continued contesting the claims he had made in his statements to the OTP investigators in 2004 and 2007. Kardum told the investigators that he himself was afraid of Croatian soldiers. Today, contrary to that, he said that the remaining local Serbs had 'lots of nice things to say' about those soldiers when he spoke to them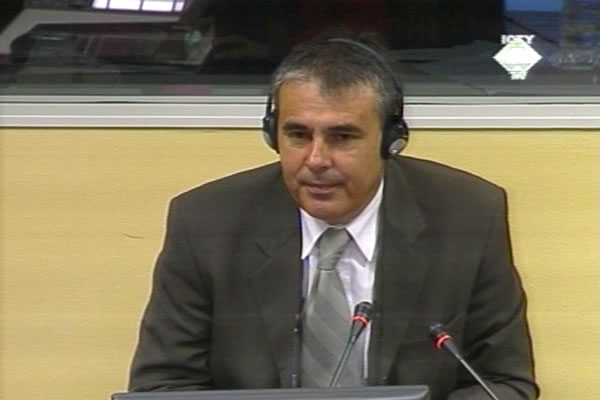 Ive Kardum, witness in the Gotovina trial
In a statement he gave to the OTP investigators, tendered into evidence at the trial of Croatian generals Gotovina, Cermak and Markac, former chief of the Zadar criminal investigation division Ive Kardum said that after Operation Storm, the Croatian civilian protection personnel did the clean-up of the terrain, removing the bodies without informing the police. The witness also said that he later learned that thirty bodies were found and buried in the Knin area in August 1995. As he received no notice of that, he couldn't investigate the case.
The prosecutor today tried to prove that there had been no investigations because the Croatian police officials decided not to investigate, and not because the CID did not have proper information. He showed the minutes from a meeting of the MUP officials in Zagreb where it is stated that it was not the task of the police to 'investigate' but merely to 'identify' the bodies that were found. Kardum denied that this meant that there was an order not to investigate the cause of death of the people whose bodies were found in Knin. The witness mentioned the murder of seven Serb civilians in the village of Gosic near Knin on 27 August 1995 and several other murder investigations undertaken from 1996 to 2002.
The witness however admitted that the minutes from the meeting in Zagreb were partially correct. There was an order issued on 7 August 1995 to the effect that there was to be no investigation in the cases when the corpses found by the civilian protection were already decomposed. As Kardum clarified, the investigations were conducted only if there were indications that a war crime had been committed. When it was assessed that the persons died in 'combat, of natural causes or suicide', there was no investigation, the witness said.
Kardum told the OTP investigators that on 7 August 1995, when he first came to Knin after Operation Storm, he saw smoke rising from neighboring villages, abandoned tractors and scattered civilian clothes. In the town and the environs, Kardum went on to say, there were policemen but also soldiers; he was scared of them. Today Kardum changed his evidence, saying that the police protected the remaining Serbs in Krajina villages. Serb civilians had 'a lot of nice things to say' about the behavior of the Croatian Army troops when he spoke to them. Asked if he or his colleagues from the police took any action against the Croatian soldiers for looting and burning, the witness replied that he was not aware of any suspicions that such acts were being committed.
As the hearing today drew to a close, police general Mladen Markac's defense cross-examining the witness.