Home
'REINTERPRETATION' OF CERMAK'S ROLE
In his statement to the OTP investigators, former officer in the Croatian military police stated that his company had been under the command of Ivan Cermak. In the evidence in the cross-examination today, Bosko Djolic said that in his view this claim was not true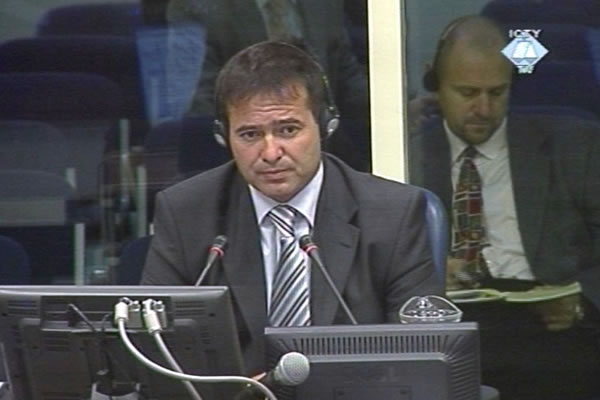 Bosko Djolic, witness in the Gotovina trial
Bosko Djolic, former commander of the joint company of the 72nd Military Police Battalion in the Croatian Army gave his first statement to the OTP investigators in May 2004. Before his evidence at the trial of Croatian generals Gotovina, Cermak and Markac, he gave an additional statement correcting some of the errors and clarifying some of his claims from 2004. At the beginning of the hearing today, Djolic made some additional corrections to this statement. Although he said he didn't want to make any more changes, in his cross-examination he disowned the paragraph describing the powers of General Ivan Cermak over the HV military police.
In his 2004 statement, the witness recounted that his company was under the command of Mihael Budimir, commander of the 72nd Military Police Battalion, but at the same time it was under the jurisdiction of General Ivan Cermak, commander of the Knin Garrison. As the witness noted, during his stay in Knin, from 5 to 12 August 1995, he had to 'comply with every Cermak's order'. Today, answering the questions of Steven Kay, Cermak's defense counsel, the witness denied those claims adding that in his view Cermak's role was not described entirely accurately in the 2004 statement. Today, he said, he is sure that he was only under Budimir's command, while Cermak had nothing to do with the military police. Although prosecutor Mahindaratne asked the Trial Chamber to warn the witness about the consequences of giving false evidence, the judges decided not to do it.
Defense counsel Kay showed the witness several orders issued by General Cermak in August 1995 to the military police, ordering them to set up patrols and activate crime investigation bodies to investigate the cases where property was stolen from the UN mission in the Sector South. Despite the fact that every document began with words 'I hereby order', Djolic agreed with the defense counsel that these orders were not binding on the military police in Knin. The military police took those orders 'as information' about the events in the field that they could respond to, but were not bound to do it. The witness couldn't understand why the documents he was showed began with words 'I order' when 'they were no orders'.
Djolic will complete his evidence tomorrow, and the prosecution will then call its next witness.