Home
SESELJ BACK IN COURT
The Appeals Chamber dismisses the appeal filed by the prosecution against the decision of the Trial Chamber of 15 August 2008 to continue the trial of Vojislav Seselj regardless of the prosecution motion to assign defense counsel to the Serbian Radical Party leader. Seselj is charged with crimes against humanity in Croatia, Vojvodina and BH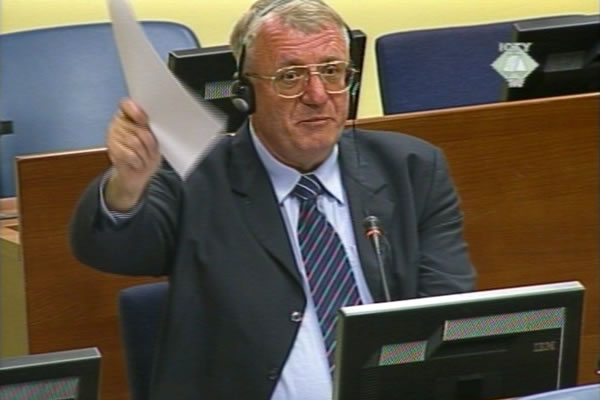 Vojislav Seselj in the courtroom
The trial of Vojislav Seselj, adjourned on 26 August 2008, is most likely to continue next week. It will continue as the Trial Chamber considers the motion filed by the prosecutor asking the Chamber to assign counsel to the accused and to exclude Seselj's legal advisers from the proceedings. Vojislav Seselj will thus get an opportunity to join the fray in the Serbian Radical Party from the Tribunal's courtroom, because his trial is televised.
The Appeals Chamber rejected the appeal filed by the prosecution against the decision of the Trial Chamber of 15 August 2008, ordering the trial to proceed and the prosecutor to disclose the list of future prosecution witnesses to the accused. After the summer recess, on 26 August 2008 prosecutor Daryl Mundis refused to disclose the witness list to Seselj, saying it would put them into a 'vulnerable position' and expose them to intimidation and persecution by the accused in the courtroom and by his assistants outside of the court. The prosecution was then granted leave to appeal against the decision of 15 August 2008 and the trial was adjourned pending the Appeals Chamber's decision.
In its decision disclosed today the Appeals Chamber rejected the prosecution appeal, ruling that the Trial Chamber did not abuse its discretionary power and did not err either in law or in fact, which might have led the Appeals Chamber to invalidate the order to resume the trial. The Appeals Chamber notes that the prosecution, in its motion to assign counsel to the accused in order to prevent further 'substantial and persistent obstruction of the proceedings', does not claim that Seselj and his legal advisers have intimidated and threatened 'all prosecution witnesses'. According to the Appeals Chamber, this means that the prosecution can call witnesses who are not exposed to pressure and threats of the accused and his legal advisers and the trial may continue pending the decision on the motion to assign counsel to the accused.
The prosecution might in fact rest its case before the Trial Chamber has ruled on the motion to assign defense counsel to Vojislav Seselj. The accused has yet to file his response to the prosecution motion. The Trial Chamber granted Seselj leave to exceed the number of words allowed in the reply: instead of the usual 3,000 words Seselj can use as many as 35,000. Seselj also asked for an extension of the time limit to file his response from one to two months, but this was not granted by the Trial Chamber. The deadline expires one months after the prosecution has disclosed to him – 'in hard copy and in Serbian', of course – more than a thousand pages of a confidential annex with specific examples of intimidation and threats to witnesses, in and out of the courtroom, by the accused and his legal advisers.