Home
VUCIC CASE REVISITED
The Appeals Chamber orders the Trial Chamber to review its decision that there was not enough ground to charge Aleksandar Vucic, Seselj's collaborator, with contempt of court for disclosing the identity of a protected witness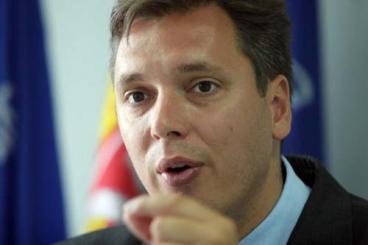 Aleksandar Vucic, secretary general of the Serbian Radical Party
The Trial Chamber with Judge Antonetti presiding will have to reconsider its decision of 10 June 2008 where it ruled that there was not sufficient evidence to charge Aleksandar Vucic, secretary general of the Serbian Radical Party and one of the most prominent members of Vojislav Seselj's team, with contempt of court. The Appeals Chamber reached this decision on 25 July 2008 after the prosecution appealed. The decision was made public today. Vojislav Seselj is on trial for crimes committed in Croatia, Vojvodina and BH.
The prosecutor launched the investigation against Vucic in January 2008, because Vucic was suspected of disclosing the identity of a protected prosecution witness at the trial of Vojislav Seselj. Since the prosecutor is a party in the Seselj case, the Trial Chamber ruled that the investigation should be conducted by an independent
amicus curiae
to avoid the conflict of interest. The
amicus curiae
's name was redacted from the decision made public today.
In his investigation, the
amicus curiae
ascertained that the actus reus of the offense of contempt of court existed because Vucic did disclose the identity of a protected witness. In his report to the Trial Chamber,
amicus curiae
noted that he was not able to establish the existence of mens rea, the intent to violate the court order protecting the witness' identity. In other words, he was not able to confirm that Seselj's associate really knew that the witness's identity was protected and that by disclosing it he had violated the court order. The Trial Chamber concluded on 10 June 2008 that there were not sufficient grounds to proceed with the contempt of court charges because there was no evidence proving 'beyond reasonable doubt' that Vucic had violated the order protecting the witness's identity.
The Appeals Chamber did however accept the prosecution argument that it was not necessary to present evidence 'beyond reasonable doubt' for the proceedings to be instituted: a prima facie case was sufficient. The Appeals Chamber returned the Vucic case to the Trial Chamber.