Home
BH ARMY COMBAT EFFORTS UNDERMINED BY POLITICIANS
Retired general Vahid Karavelic Vaha contends that Alija Izetbegovic contributed to the pervading lack of discipline in the BH Army and jeopardized its war efforts when he agreed to stimulate financially individuals such as Musan Topalovic Caco and Ramiz Delalic Celo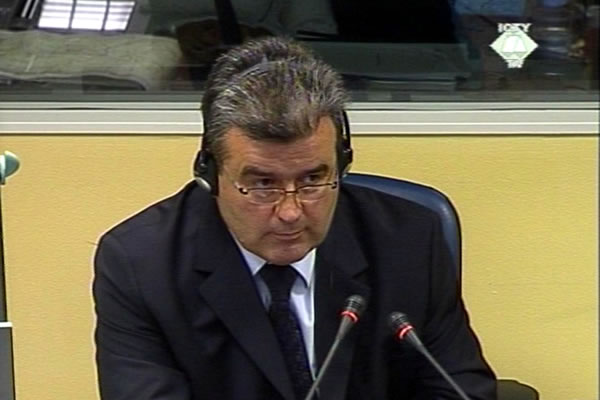 Vahid Karavelic Vaha, defense witness in the Delic trial
Awaiting for the Trial Chamber's ruling on the belated disclosure of a series of documents seized in the Islamic Culture Center in Milan, General Rasim Delic's defense called retired general Vahid Karavelic Vaha, former commander of the BH Army 1st Corps, to testify.
Describing the discipline level in the BH Army in June 1993 when general Delic took over as the commander of the BH Army General Staff, Karavelic said that the civilian authorities interfering in military matters impaired the chain of command, already weakened by the presence of individuals with criminal past, such as Musan Topalovic Caco and Ramiz Delalic Celo. Topalovic and Delalic were brigade commanders in the 1st Corps.
In Karavelic's words, BH president Alija Izetbegovic contributed to this state of affairs when he approved financial incentives for the disobedient commanders although this weakened the morale of the troops in the BH Army. In 1993, Karavelic confronted the Sarajevo war commander because he had rewarded Topalovic and Delalic. 'Instead of taking my side, Izetbegovic ordered me to make peace with the commander', Karavelic said, thus corroborating the defense argument that Izetbegovic had 'direct control over some units' that were not a part of the chain of command. Karavelic contended Izetbegovic interfered because of his 'ignorance of military matters'. When judge Moloto asked him if one could say that Izetbegovic undermined the BH Army war effort, Karavelic agreed with him.
The defense showed the witness a video recording of general Delic's address to the BH Army officers. In it, the commander of the General Staff says that some commanders exhibited 'suspect moral and patriotic views'. Karavelic explained that finding a solution for this problem' was a burning issue the BH Army was facing, adding that the recording was most likely made in the second half of 1993.
This was general Karavelic's fifth appearance before the Tribunal in The Hague. He testified for the defense in the Enver Hadzihasanovic and Amir Kubura case, and for the prosecution at the trial of Stanislav Galic and Dragomir Milosevic. He also testified at the trial of Sefer Halilovic, the first commander of the BH Army, following a subpoena.
General Karavelic will continue his evidence tomorrow.