Home
ZELENOVIC TO SERVE SENTENCE IN BELGIUM
Former Bosnian Serb military police officer Dragan Zelenovic is transferred to Belgium where he will serve his 15-year sentence for rape and torture of Bosniak girls and women in Foca in 1992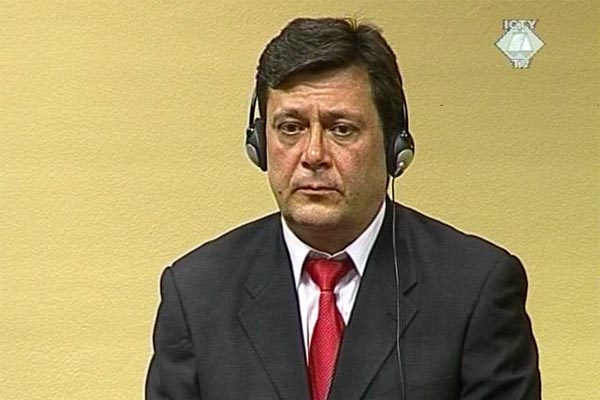 Dragan Zelenovic during the sentencing
Former deputy commander in the Bosnian Serb Military Police Dragan Zelenovic was transferred to a prison in Belgium to serve his sentence. In April 2007, Zelenovic was sentenced to 15 years in prison for rape and torture of Bosniak girls and women in Foca in 1992.
In January 2007, Zelenovic pleaded guilty to rape and torture of his victims, including a 15-years old girl. Finding that the crimes the accused had perpetrated represented 'a part of the pattern of sexual violence' against Bosniak girls and women in Foca in 1992, on 4 April 2007 the Trial Chamber convicted him of direct participation in nine rapes and of co-perpetration in two other cases. This sentence was confirmed by the Appeals Chamber on 31 October 2007.
Zelenovic had been a fugitive from justice for a long time. After the indictment was issued in June 1996, he first took shelter in Belgrade and then fled to Russia under a new identity where he stayed until his arrest in August 2005. At his initial appearance before the Tribunal, Zelenovic pleaded not guilty. However, when his case came before the Referral Chamber, he changed his mind and made a plea agreement with the prosecution.
Seven other Bosnian Serb army and police members were charged with rape, torture and sexual enslavement in Foca. Dragan Gagovic and Janko Janjic were killed resisting arrest. Dragoljub Kunarac was sentenced to 28 years, Radomir Kovac to 20 years and Zoran Vukovic to 12 years in prison. The cases of Radovan Stankovic and Gojko Jankovic were referred to the BH justice. The two were later sentenced to 20 and 34 years in prison respectively.
In May 2007, Stankovic escaped from the Foca prison and is still at large.