Home
SESELJ'S MEN AS 'PART OF ALL PEOPLE'S DEFENSE'
As the cross-examination of the prosecution military analyst continues, Vojislav Seselj says that when Serbian Radical Party started recruiting volunteers in early 1991 it in fact took over in part the role of the former Yugoslav League of Communists in the all people's defense system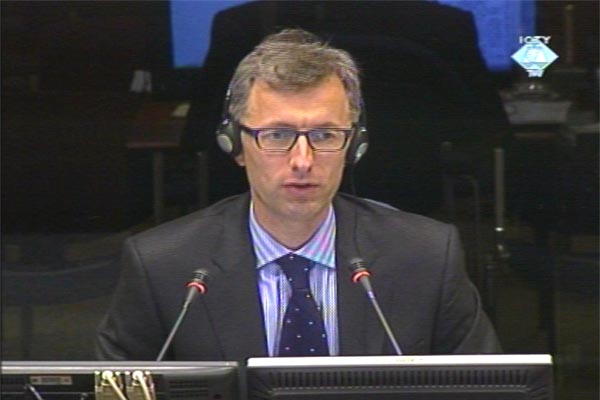 Reynaud Theunens, witness in the Seselj trial
When the multiparty system was introduced in 1990 to replace the one-party structure in the former Yugoslavia, the Serbian Radical Party took over in part the role of the Yugoslav League of Communists (SKJ) in the all people's defense system, Vojislav Seselj said today as his cross-examination of the prosecution military analyst Reynaud Theunens continued.
Theunens wrote the expert report on the role of the accused Seselj and his SRS in the recruitment, training, arming and funding of volunteers and their use in the wars in Croatia and BH. According to him, as early as in the spring of 1991, the SRS started sending its volunteers to Croatia. The government of Serbia, the JNA General Staff and the rump SFRY presidency did not issue decrees, instructions and orders to 'cover' such a state of affairs until later, some time between August and December 1991.
Seselj contests this, arguing that all adult citizens and all social institutions, political parties included, were 'subjects' – played a part – in the all people's defense system. If the SKJ had had a special role in the defense while the one-party system had been in place, why should not the SRS and its volunteers be 'a subject' in the defense of the country once the SKJ was no longer there, Seselj asked today.
Theunens thinks this was impossible because the laws of that time made no mention of the role of political parties in recruiting volunteers. It is true that the Constitution and the Law on National Defense envisaged the possibility of 'supplementing the armed forces with volunteers', but only in a state of emergency, state of war or state of imminent threat of war. This was declared only in the fall of 1991.
Seselj didn't accept this, noting that there 'existed special volunteer units in the all people's defense system' in the former Yugoslavia. He himself was an example, he said. In 1972, when he was in third grade in the Sarajevo grammar school, he was a member of a volunteer unit and even carried a machine gun in a parade. Later, when he became the president of the Student Union Committee for his faculty in Sarajevo, he established the Mosa Pijade volunteer unit, comprising both students and teachers. According to Seselj, there is no difference between the volunteer units established in late 1970s by the Student Union and those created by the Serbian Radical Party in the early 1990s.
Seselj will continue his cross-examination of the prosecution military expert tomorrow.