Home
NOT ALL CHETNIKS WERE 'SESELJ'S MEN'
The prosecutor admits there were other formations calling themselves Chetniks that had nothing to do with the accused and the SRS. He also agrees there were 'self-proclaimed Chetniks' and that some other parties apart from the SRS 'followed the Chetnik tradition'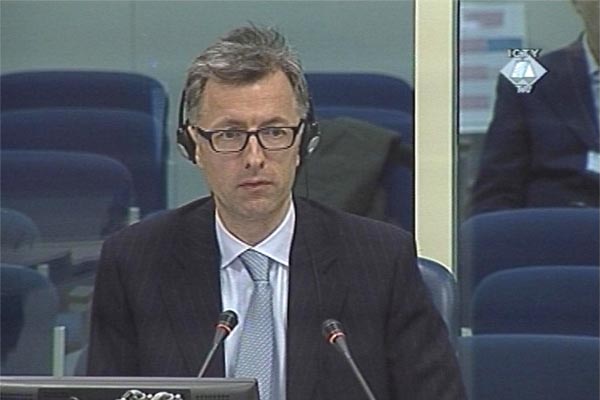 Reynaud Theunens, witness in the Seselj trial
In today's cross-examination of Reynaud Theunens, the prosecution military analyst, Vojislav Seselj managed to get the witness to confirm that there were other formations in the conflicts in Croatia and BH calling themselves 'Chetniks' that had nothing to do with the Serbian Radical Party and its volunteers. Theunens also confirmed there had been 'self-proclaimed Chetniks' with no links to the SRS, and that some other political parties, such as Vuk Draskovic's Serbian Renewal Movement or Milan Paroski's National Party, followed the Chetnik tradition and appointed Chetnik vojvode.
Seselj spent the past few days arguing that in Vukovar and other places in Slavonia, the SRS volunteers came under the army control after September 1991. Today he attempted to prove that the Serbian Chetnik Movement units operating in Sarajevo and Bijeljina were a part of the Bosnian Serb army or police and under their command. According to the documents he tendered into evidence, Slavko Aleksic, Branislav Gavrilovic and Vasilije Vidovic, the commanders of these units, were Bosnian Serb military or police officers. True, in 1993 Seselj appointed them Chetnik vojvode, for their military merits, but as he noted, this didn't imply they were under the influence of the SRS headquarters in Belgrade.
The prosecution didn't even try to contest the allegation that those Chetnik vojvode were under the VRS command and under the influence of local SRS boards, and Seselj concluded that he had successfully contested this count in the indictment, where he is charged with Chetnik crimes in the greater Sarajevo area. Prosecutor Mathias Marcussen disagreed, reminding Seselj that the indictment charged him for participation in the joint criminal enterprise to create an ethnically homogenous Greater Serbia by the expulsion and forcible transfer of non-Serbs from large parts of Croatia and BH. Some of the crimes, the prosecutor clarified, were committed by persons under the command of the accused. Some crimes were committed by forces not under Seselj's command but they operated within the framework of the same plan to implement the same objective of this joint criminal enterprise.
As today's cross-examination of the prosecution military expert drew to a close, Seselj tried with all his might to discredit Aleksandar Vasiljevic, former chief of the JNA counterespionage service, accusing him of planning a military coup and of 'framing' first Croats and then Serbs for the crimes. Seselj said that Vasiljevic had robbed millions of German marks from a bank in Vukovar and blamed him for the surrender of more than 200 prisoners of war to the local Territorial Defense who later executed them. The passion with which Seselj attacked Vasiljevic indicated that the former military intelligence officer might appear soon in The Hague as a prosecution witness at the trial of the Serbian Radicals leader charged with crimes against humanity in Croatia, Vojvodina and BH.