Home
LEGAL 'COVER' FOR THE VOLUNTEERS
According to the prosecution military expert, Seselj's Radicals and other parties started recruiting and sending volunteers to Croatia as early as in the spring of 1991. From August to December 1991, the Serbian government, the JNA General Staff and the SFRY Presidency passed decrees, instructions and orders to provide legal 'cover' for the actual state of affairs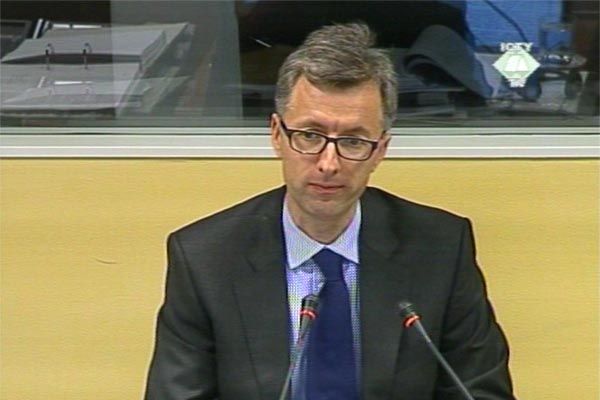 Reynaud Theunens, witness in the Seselj trial
Prosecution military expert Reynaud Theunens continued his evidence today, and most of the time was spent admitting into evidence a number of documents from 1991. The documents regulate the procedures for the registration, admission and use of the volunteers in the armed forces of the then SFRY. The Serbian Radical Party and some other political parties began recruiting volunteers and sending them to Croatia as early as in the spring of 1991, Theunens repeated. Sometime later, from August to December 1991, the Serbian government, the JNA General Staff and the SFRY Presidency passed decrees, instructions and orders to provide legal 'cover' for the actual state of affairs.
Among documents admitted into evidence are Serbian Radical Party documents describing the role of the party and its leader Vojislav Seselj in the recruiting and equipping of volunteers of the 'Serbian Chetnik movement' sent to the Croatian fronts. Some of the documents were admitted into evidence in closed session to protect the sources from which the prosecution obtained them. The document
Basic military organization of the SRS volunteers
was discussed in open session. The document was drafted in 1994, Seselj objected, outside of the time relevant for the indictment, but Theunens remarked that some of its aspects – such as the ranks or military structure of volunteer units – were in use in 1991.
As Theunens pointed out, the JNA and the VRS didn't recognize the ranks used by the SRS volunteers and described some of the volunteer unit commanders as 'the self-proclaimed Chetnik captain', 'major' or '
vojvoda
' in their documents. These ranks implied that those men held positions of authority and power in the volunteer units, the prosecution military expert clarified. In particular this applies to the rank or post of the 'Chetnik
vojvoda
', a war leader. Seselj himself, as the 'most senior
vojvoda
in the country' promoted the most distinguished commanders of his volunteers to this rank.
As today's hearing drew to a close, Seselj asked that the documents the prosecution had recently obtained from the Serbian government be disclosed to him. The documents show that in the 1990s, Seselj and his party were under surveillance of the state and military security service. According to Seselj, this shows that Milosevic and his secret services 'were after him'. He intends to use this fact to challenge the prosecution argument that he took part in the joint criminal enterprise together with the then Serbian political, military and police leaders. The prosecutor promised he would disclose the documents to the accused as soon as the Serbian government approved it.
Seselj is expected to begin his cross-examination of the prosecution military analyst tomorrow.