Home
DEFENSE TEAMS CALL FOR ACQUITTAL AT HALF-TIME
The defense teams of Miletic and Gvero, former members of the VRS General Staff, claim that the prosecution failed to prove their clients' responsibility for any of the charges in the five counts in the indictment. The Rule 98 bis hearings continued with the oral arguments of Vinko Pandurevic's defense, also calling for acquittal of their client, former commander of the VRS Zvornik Brigade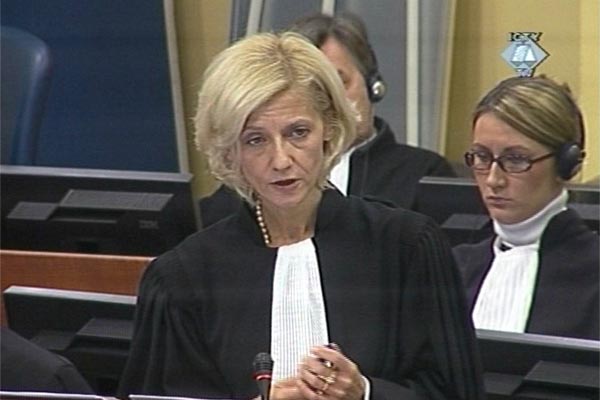 Natasha Fauveau, defense attorney for Radivoje Miletic
Operation Krivaja 95 was completed by 9 July 1995. The next day, the population withdrew from Srebrenica; nobody forced those people to leave. The events that followed are the result of the changes to the 'original plan', done without Vinko Pandurevic's knowledge. The defense of the former commander of the VRS Zvornik Brigade therefore calls for his acquittal of the charge of conspiracy to commit genocide.
According to defense counsel Peter Haynes, Pandurevic didn't know that the 'original objective' of the separation of the enclaves Srebrenica and Zepa had been 'extended' to what the prosecution described as the deportation and destruction of the Muslim population in the enclaves. 'Even if some of the accused took part in devising the original plan of the operation, they couldn't be held responsible for this amended version', Haynes concluded.
The defense teams of general Radivoje Miletic and General Milan Gvero also presented their arguments under Rule 98 bis. According to them, none of the five counts in the indictment were corroborated by sufficient evidence. Rule 98 bis allows the Trial Chamber to dismiss the counts which, in its view, have not been sufficiently proven by the prosecution in its case.
General Miletic's defense accepts that in July 1995 he stood in for General Milovanovic, the absent Chief of the VRS General Staff, but denies the prosecution argument that he assumed his powers. The prosecutor failed to prove this allegation and Miletic's blame is based solely on the fact that he was a member of the VRS General Staff during the time relevant for the indictment.
The defense also believes that the prosecution failed to prove the allegation in the indictment that Miletic authored the famous Directive 7, ordering that the 'lives of the population in Srebrenica and Zepa must be made unbearable', forcing them to leave the enclaves. Miletic's signature on the document didn't prove that Miletic wrote it, the defense claims. The only conclusion that might be drawn from the signature is that Miletic was aware of the general policy towards the enclaves, but not that he approved and supported it.
In order for deportation to be qualified as a crime against humanity, the defense teams of Miletic and Gvero agreed, the prosecution had to prove that 'the crime was committed against civilians'. It failed to do that, they claim, as the evidence speaks opposite: the people who fled from Zepa and crossed the Drina were soldiers.
As the hearing today drew to a close, prosecutor Peter McCloskey started presenting his reply to the arguments presented by the defense of the seven Bosnian Serb military and police officers charged with genocide and other crimes in Srebrenica and Zepa. He began by saying that those crimes should be considered in the context of the Bosnian Serbs' 'strategic objectives'. The objectives were set as far back as in 1992; in July 1995, their implementation reached the high point. McCloskey will continue his reply next week.