Home
NO CHANGES FOR SREBRENICA AND ZEPA CHARGES
After the prosecution has rested its case, the Trial Chamber dismisses the defense motions for the acquittal of Bosnian Serb military and police officers on some or all counts in the indictment charging them with genocide and other crimes in Srebrenica and Zepa in 1995. The defense will have to call evidence to contest all counts in the indictment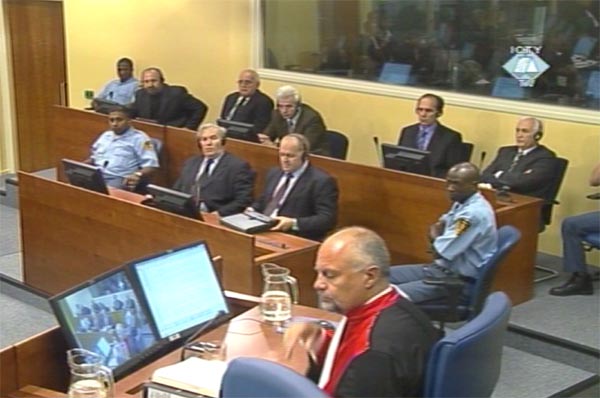 Vujadin Popovic, Ljubisa Beara, Drago Nikolic, Ljubomir Borovcanin, Vinko Pandurevic, Radivoj Miletic and Milan Gvero in the courtroom
In its decision on Rule 98 bis motions today, the Trial Chamber finds that the prosecution has presented enough evidence on all the counts in the indictment against the seven Bosnian Serb military and police officers accused of crimes in Srebrenica and Zepa.
According to Rule 98 bis, after the prosecution rests its case the Trial Chamber decides whether the prosecution has failed to present enough evidence to support some or all of the count in the indictment. In that case, the defense has no case to answer. Two weeks ago, the defense teams of the accused officers – all except Vujadin Popovic – presented their arguments in support of their motions for the acquittal of their clients on some or all counts in the indictment.
Before delivering the decision, the judges heard the prosecution's response. The only charge the defense teams will not have to contest relates to an incident in the indictment involving the murder of nine civilians in Potocari in July 1995. Just before the Rule 98 bis hearing, the prosecution told the court it didn't present any evidence on this incident.
The judges dismissed the defense arguments that Drago Nikolic, Ljubomir Borovcanin, Ljubisa Beara and Vinko Pandurevic 'didn't join together for the purpose of committing genocide'. The defense teams were wrong when they claimed the prosecution had failed to prove that allegation, the Trial Chamber ruled. The judges dismissed the claim of Miletic's defense that the prosecution had failed to call evidence to prove he had participated in the joint criminal enterprise to eliminate the BH Army members and Bosniak civilians from the enclaves of Srebrenica and Zepa.
The Trial Chamber decided not to rule on the defense claims that the deportation and forcible transfer charges can only apply to civilians and not to men of military age or BH Army members that had left Srebrenica and Zepa after the arrival of Serbian troops. The judges concluded that the argument the defense presented on the issue related to 'a legal issue still pending before the Appeals Chamber'. It would thus be inappropriate for the Trial Chamber to rule on this issue now; it will do so when both parties have rested their cases. Milan Gvero's arguments pertained only to this count in the indictment.
The trial of the seven Bosnian Serb military and police officers charged with crimes in Srebrenica and Zepa will continue on 22 May 2008 with a status conference before the opening of the defense case.