Home
PROSECUTION RESTS ITS CASE AT THE THIRD SREBRENICA TRIAL
Former British Army servicewoman testifies as the last prosecution witness at the trial of seven officers charged with crimes in Srebrenica and Zepa. She confirms that she attended a meeting of the UNPROFOR commander in BH, General Smith and the accused General Gvero in late July in Zepa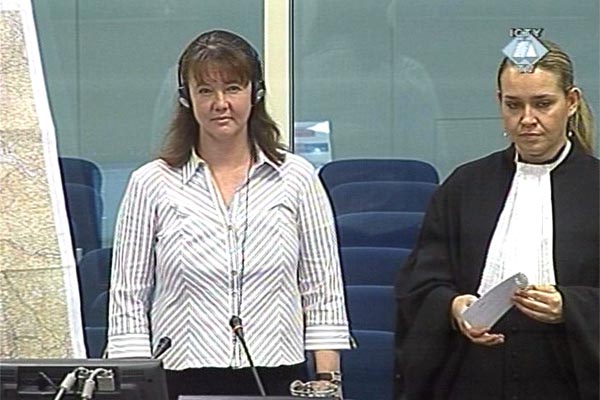 Emma Sayers, last prosecution witness in the trial of sevel military and police officials charged with crimes in Srebrenica
The prosecution rested its case eighteen months after the trial of Bosnian Serb military and police officers started, on charges of crimes in Srebrenica and Zepa. In the 252 working days from the start of the trial on 21 August 2006, the prosecution called 138 witnesses and tendered into evidence thousands of documents confiscated in various VRS headquarters. Among them are transcripts of the intercepted radio and telephone communications, numerous photographs, aerial shots and video recordings taken in July 1995. According to the prosecutor, the attack launched against the Bosnian eastern enclaves 'ended the brutal campaign for the creation of an ethnically clean Serbian state within Bosnia Herzegovina that had started in the spring of 1992'.
Emma Sayers, former British Army officer, testified as the last prosecution witness. In July 1995 she was a liaison officer and interpreter for Serbian and Croatian in the UNPROFOR headquarters in Sarajevo.
The UNPROFOR commander in BH at the time was General Rupert Smith. In his evidence in November 2007, he said that the General Zdravko Tolimir had been in charge of the Zepa operation launched by the VRS, but that 'later, General Milan Gvero took over from him'. Gvero himself confirmed this to Smith, he said, when they met at an UNPROFOR check point near Zepa on 27 July 1995.
The witness confirmed that she had accompanied the UNPROFOR commander at the time. The brief encounter of the two generals really happen, she confirmed. She put the information on this encounter in her regular report on the meetings General Rupert had that day. The copy of her report was admitted into evidence.
Sayers was, however, unable to confirm that General Gvero really had said that he had taken over command of the Zepa operation. 'I didn't understand it like that', she said clarifying that she got the impression that 'he was going there (to Zepa) to check out the situation in the field'.
In an effort to challenge the evidence of the prosecution witness, General Gvero's defence claimed that her memory of a visit to Zepa in July 1995 was 'foggy and unreliable'. Not contesting the fact that she might not have remembered all the details, Emma Sayers explained that the UNPROFOR reports dating from that period – some of which she drafted herself – refreshed her memory of the key events in July 1995.
The trial of Ljubisa Beara, Vujadin Popovic, Ljubomir Borovcanin, Drago Nikolic, Vinko Pandurevic, Milan Gvero and Radivoje Miletic continues next Thursday, 14 February 2008 with the Rule 98 bis hearing. The defense will have an opportunity to call for the acquittal of their clients on the counts where, in their view, the prosecution has failed to prove its case.