Home
NEW PROSECUTION EVIDENCE AT SREBRENICA TRIAL
Judges grant the prosecution request to reopen of its case. Prosecutors want to call three witnesses who will testify on the involvement of Vujadin Popovic, former Drina Corps security officer, in the mass execution in the village of Bisina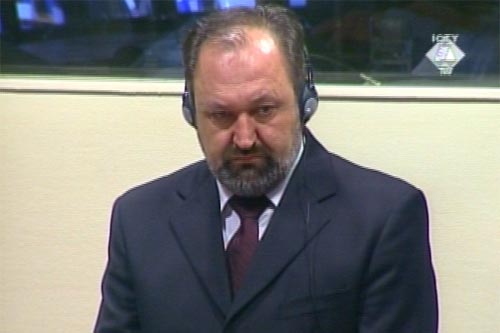 Vujadin Popovic in the courtroom
The Trial Chamber granted this afternoon the prosecution request to reopen its case. The prosecutors want to call three witnesses who are expected to talk about the 'direct involvement' of Vujadin Popovic in the execution of Muslim prisoners in the village of Bisina, near Sekovici in Eastern Bosnia. According to the prosecution, they will testify that on 23 July 1995 Popovic was present at the execution site and gave orders about the burial of bodies.
As the prosecution alleges, new evidence "supports its theory that Popovic was a core member of the joint criminal enterprise' and is relevant to his 'criminal intent'. The defense urged the Trial Chamber to dismiss the prosecution request arguing that the evidence was "not fresh", and that the reopening of the prosecution case puts Popovic's rights in jeopardy, requires the defense to investigate the matter and might delay the defense case by six months.
In the decision granting the prosecution request, the Trial Chamber stated that the evidence the prosecution intends to call is 'acceptable' as it pertains to the 'fundamental aspect of the prosecution case against Popovic'. Although the execution of Muslim prisoners in Bisina is not alleged in the indictment against Popovic, the Trial Chamber found it relevant for Popovic's 'knowledge, intent and pattern of conduct' during the period covered by the indictment and for the joint criminal enterprise charge in particular. It is stressed in the decision that "it is not possible that Popovic or any of the other six accused charged with crimes in Srebrenica and Zepa in the summer of 1995 'be found responsible for the executions in Bisina'.
New evidence the prosecution plans to call will not postpone the beginning of the defense case scheduled for 22 May 2008. With the permission of the Trial Chamber, the prosecution will be able to call the three witnesses regardless of the trial schedule.