Home
HARSHER TONE AT SESELJ TRIAL
In the first two days of the cross-examination, Seselj refrained from confronting with the prosecution witness who in turn mostly agreed with Seselj's allegations. Today Seselj changed his tone, accusing Goran Stoparic of having 'planned his whole testimony with Natasa Kandic'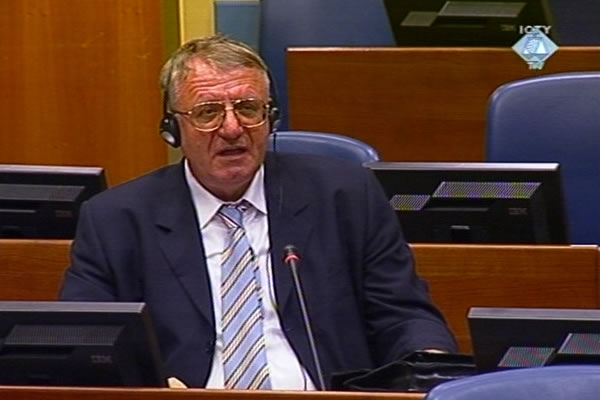 Vojislav Seselj in the courtroom
In the cross-examination yesterday, Vojislav Seselj forgave Goran Stoparic, his erstwhile follower and Serbian Radical Party volunteer, for having cooperated with the HVO. In late 1992, Stoparic fought 'shoulder to shoulder with Croats against the Muslims'. Today, Seselj was not willing to forgive Stoparic for cooperating with Natasa Kandic, head of Humanitarian Law Center in Belgrade. In August 2003, Natasa Kandic interviewed Stoparic about his war career, from Chetniks in 1991 to Scorpions in 1999.
In the first two days of his cross-examination, Seselj refrained from confrontations with the prosecution witness who for the most part replied in the same tone, agreeing with everything the accused put to him. Seselj's tone was harsher today as he implied that Stoparic 'agreed how to testify with Natasa Kandic'; his whole testimony was 'designed to be false'. However, in the proofing sessions over a number of days, the prosecution realized 'nobody could remember so many lies' and Stoparic was instructed to 'lie only about Vojvodina'. According to Seselj, Stoparic was allowed to 'speak freely', to the best of his recollection, about other events (Vukovar, Nevesinje, Mostar, Brcko and other battlefields he fought on from 1991 to 1995).
Stoparic confirmed that he had been in touch with Natasa Kandic. She interviewed him and he spent some time in her apartment in Belgrade and that 'saved his life', as he said. Nevertheless, Stoparic categorically denied that he had been instructed by Natasa Kandic or anybody else about what to say to the OTP investigators and how to testify before the Tribunal.
Seselj wanted to read a letter Stoparic allegedly sent to an acquaintance of his who forwarded it to the associates of the accused. When the letter was shown to him, Stoparic denied having written it and didn't want it to be read out in public. He asked the Trial Chamber to order a handwriting analysis to confirm that he didn't write the letter. With a majority of votes – the presiding judge Antonetti was outvoted – the Trial Chamber did not allow Seselj to read the letter in the courtroom and granted the request of prosecutor Christine Dahl. Noting that the 'attempts to submit fake documents to the Tribunal' was a serious issue, she asked that the letter be marked for identification, that she be provided with a copy and that the real author be identified.
On the orders of the Trial Chamber, a part of transcript and the video recording where Seselj mentioned the title of one his books has to be redacted. Judge Antonetti noted that the title 'is an offence to the dignity' of the person whose name appears in the title, Judge Antonetti warned Seselj that the Tribunal 'cannot be used as a means for further slander' of his opponents.