Home
SESELJ AND THE 'CHETNIK INSIDER'
In his cross-examination, Vojislav Seselj avoided any confrontations with his erstwhile follower, former Serbian Radical Party volunteer Goran Stoparic. He preferred to accuse the prosecution of first bribing and then abusing the witness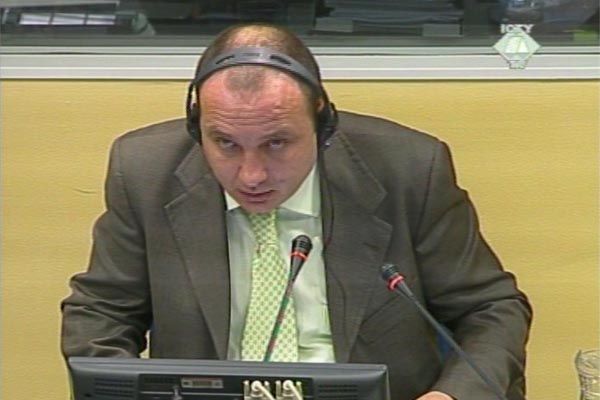 Goran Stoparic, witness in the Seselj trial
'Had the fate decreed that you should be the president, it would probably had been different', prosecution witness Goran Stoparic said in answer to a question by the accused Vojislav Seselj. The Serbian Radical Party leader is on trial for crimes against humanity in Croatia, Vojvodina and BH.
Although the witness didn't clarify what exactly would have been different had Seselj been elected president, the context indicated he believed that Serbia would not have lost the wars and territories it did lose under president Milosevic. As a SRS volunteer and member of the Scorpions, a special unit of the Serbian Interior Ministry, Stoparic took part in all those wars: from Vukovar in Croatia in 1992, various battlefields in BH from 1992 to 1995 and finally to Kosovo in 1999. When Seselj asked him if he was proud of his career as a fighter, Stoparic today said that he 'never felt sorry for any of it'.
The accused asked this question deliberately to show that the prosecution framed Stoparic, since in his statement he says he was inspired by Seselj's rhetoric when he 'made this crazy act and went to war'. Careful not to confront his former follower now testifying as an insider witness, Seselj attempted to paint him as a victim of the prosecution. The prosecution 'bribed' Stoparic because it got him into a witness relocation program providing him with a comfortable living in the West and a monthly allowance of 900 Euro. This is about twenty times more that he received in disability benefits from the Interior Ministry from 1999, when he was wounded in Kosovo, to 2004 when he left the country.
As a "smoking gun evidence" that Stoparic was framed by the prosecution, Seselj quoted parts of Stoparic's 2006 statement where he allegedly used 'newly coined' Croatian words. The witness confirmed that he didn't use such words. At that point prosecutor Christine Dahl intervened, noting that this was not witness's statement but an internal OTP memorandum. It was written in English and then translated into the so-called BCS (Bosnian-Croatian-Serbian) when it was disclosed to the accused. In this process, the text was translated by a 'Croatian translator'.
Contesting the claim that his volunteers had taken part in the Ovcara massacre in Vukovar in the night of 20 November 1991, Seselj tendered affidavits by a dozen bus drivers who had taken the SRS volunteers back to Serbia after the fall of Vukovar. According to them, almost all the volunteers had already left Vukovar before the night of the massacre and returned to Serbia. Seselj gave his explanation of the fact that their commander, Milan Lanzucanin Kameni, was convicted for the Ovcara massacre and sentenced to 20 years. The 'special court of the ruling regime convicted Kameni, who was innocent, to 20 years in prison to create an artificial link between me and Kameni,' he said.
Seselj continues his cross-examination of Goran Stoparic tomorrow afternoon.