Home
FOLLOWING THE VIDEO TRAIL
OTP investigators and a photographer visited and identified locations in the Srebrenica area where on 13 and 14 July 1995 a Belgrade journalist filmed events and persons of special significance for the prosecution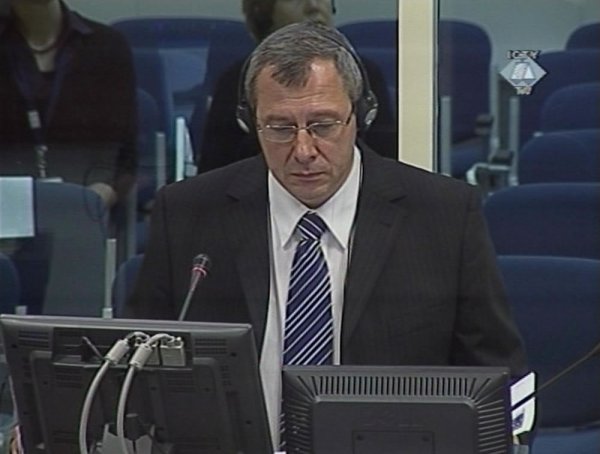 Tomasz Blaszczyk, witness in the trial of former Bosnian Serb officers charged with crimes in Srebrenica
At the trial of Bosnian Serb military and police officers, the prosecution today called Tomasz Blaszczyk thus setting the stage for the testimony of Zoran Petrovic Pirocanac, a journalist from Belgrade and author of a 'documentary' that has already played a significant role in the previous Srebrenica trials before the Tribunal.
Blaszczyk was an investigator for the Office of the Prosecutor. Last summer, he and Zoran Lesic, OTP video assistant, followed the trail of the video made by Zoran Petrovic on 13 and 14 July 1995 in the Srebrenica region. They had to identify and film all the locations where some of the most important scenes Petrovic filmed took place: the separation of men in Potocari, their detention in the 'white house' across the road from the Dutch Battalion base, the 'man hunt' along the road from Bratunac to Konjevic Polje, surrender of Bosniaks trying to get to Tuzla in a column through the woods, gathering the prisoners in a meadow near Sandici and the massacre in the warehouse of Kravica co-op.
[IMAGE]3127[/IMAGE]In the course of their mission in Srebrenica, Blaszczyk and Lasic managed to identify the locations where Zoran Petrovic recorded the scenes in his video, noted their exact position with a GPS device and took 360-degree photographs marking the locations of special interest for the OTP. The marks on the 360-degree photographs taken in 2007 are actually links. When one clicks on them, the footage taken by the Belgrade journalist in the same place 12 years ago is shown.
The prosecution got this film from several sources, it was clarified today: from the BBC, the BH Ministry of Defense, and Zoran Petrovic himself. A part of the recording shown in late July 1995 by Belgrade's Studio B channel was obtained from the accused Ljubomir Borovcanin who had escorted the Belgrade journalist on 13 and 14 July 1995 on his Srebrenica tour. The footage shown by Studio B is particularly significant as it contains several scenes that had mysteriously disappeared from the 'original tape' obtained from other three sources. One scene shows prisoners on the balcony of the 'white house' in Potocari where the men previously separated from women and children were held captive. Another scene was shot while the prisoners were being massacred in the Kravica warehouse: as Petrovic and Borovcanin pass by the warehouse in a car there is a heap of dead bodies in front of the door, while shots can be heard. The Belgrade journalist is heard saying, 'there are dead people here'.
Blaszczyk today refused to comment on the mysterious disappearance of these scenes from 'an original video' saying that this would be 'explained by Mr Petrovic'.