Home
DEFENSE: UNPROFOR WAS 'CARELESS' AND 'BIASED'
In the cross-examination of Canadian officer Louis Fortain, the defense counsel of the seven Bosnian Serb military and police officers charged with crimes in Srebrenica and Zepa try to prove that in 1995 UNPROFOR was 'pro-Muslim' and that it made its decisions on the basis of unverified information from unreliable sources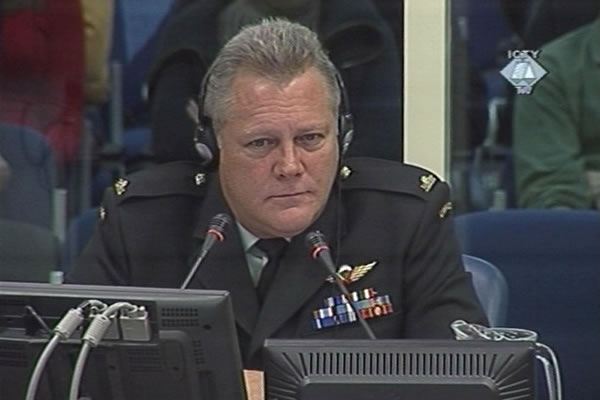 Louis Fortin, witness in the trial of the former Bosnian Serb officials charged with crimes in Srebrenica
In the summer of 1995, the UNPROFOR in BH relied on unverified information from unreliable sources to make its decisions. This was suggested by the defense of the Srebrenica seven in the cross-examination of Canadian officer Louis Fortain. In July 1995, he was an aide to General Gobillard, commander of the UN troops in Sector Sarajevo and acting commander of the UNPROFOR in BH in the absence of General Rupert Smith.
The defense counsel of Milan Gvero, former Mladic's assistant for morale and religious issues in the VRS General Staff, confronted the Canadian officer with a BH Army report from February 1996 describing the fall of Srebrenica and Zepa safe havens. The report says that the UN Ukrainian Battalion in Zepa gave the weapons back to the BH Army troops after the 'Chetnik attack' on 9 July 1995. The report also states that the Ukrainian troops 'sent false reports' about the attacks of Serbian forces on the UN to their superior command, calling for NATO air support.
Colonel Fortain said that, in his opinion, the BH Army report was 'full of exaggerated claims'. According to him, the Ukrainian Battalion 'didn't evince an exemplary discipline', but they wouldn't 'go so far as to lie to their own command'. In his examination-in chief, Fortain said that the Ukrainian Battalion was regarded as 'pro-Serb' while Gvero's defense counsel used this BH Army document to point to the diametrically opposite conclusion. When he was asked whether the rest of the UNPROFOR troops could then have been regarded as 'pro-Muslim', the witness replied that in his view they were 'more impartial'.
In his attempt to prove that his client had a 'rather marginal position' in the VRS General Staff, David Josse, Gvero's British attorney, said that General Gobillard had talked to Gvero on 11 July 1995 only because both General Mladic and General Tolimir had been absent at the time. After he was shown the transcript of that conversation pointing to this conclusion, the witness allowed that possibility.
In the re-examination, prosecutor Norman Thayer revisited the issue of General Gvero's position in the General Staff in the summer of 1995. He asked the witness if he thought Gvero was a 'marginal player' at that time. The Canadian officer said that he 'didn't get this impression'. According to Fortain, Gvero used the same methods as other Bosnian Serb officers 'to slow down the UNPROFOR operations ' in order to secure the unhindered advance of the VRS towards the enclaves.