Home
BRITISH GENERAL'S 'BIAS'
Milan Gvero's defense accuses General Rupert Smith, who commanded the UNPROFOR in BH in 1995, of being 'pro-Muslim'. The trial of the Srebrenica Seven continues on 19 November 2007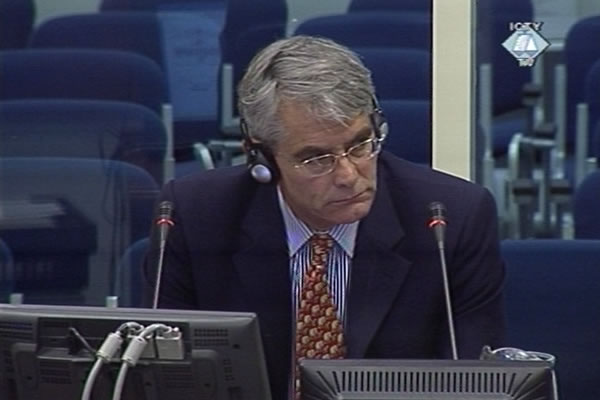 Rupert Smith, witness in the trial of the former Bosnian Serb officers charged with crimes in Srebrenica and Zepa
The defense of General Milan Gvero, Mladic's former assistant for morale in the VRS General Staff, cross-examined General Rupert Smith today in an effort to paint the British general as 'being biased' and pro-Bosniak, acting against the Bosnian Serbs. Smith commanded the UNPROFOR in BH in the summer of 1995.
David Josse, Gvero's British defense counsel, pointed at several documents and passages from
The Art of War in the Modern World
, a book the British general wrote. According to the defense, they demonstrate that General Smith was in regular contact with the Bosniak military and political leaders, while his meeting with the Bosnian Serb representatives were irregular, to say the least.
The British general confirmed this, explaining that the Bosnian Serbs were to blame. 'We often asked to meet with the Bosnian Serbs, but our requests were turned down', Smith said. According to his assessment, military and political leaders of Republika Srpska could have met UNPROFOR representatives more often, had they wanted to do so.
Milan Gvero's defense counsel implied that the British general had taken a 'too personal stand' in certain situations, especially towards Mladic. An example of this was Smith's refusal to communicate in any possible way with Mladic in June 1995. His superior, French General Janvier, had to do it instead.
Smith didn't deny his decision was personal. But, he explained, he decided to do it because Mladic's troops held UNPROFOR troops as hostages. 'I didn't want to weaken my position by talking to someone who held my men hostage,' Smith said. He was not opposed to contacts with Bosnian Serbs, but thought that it was not his job to do it.
Finally, Josse reminded the court that General Smith was on vacation on Korcula when Mladic's troops attacked Srebrenica. He cut his holiday short to attend a meeting in Geneva, but instead of heading back to his HQ in Sarajevo, he returned to Korcula. Josse put it to the British general that he himself had decided to continue his vacation, and that he had not been instructed to do so by his superiors, as he had said in his evidence. The defense counsel accused the British general of trying to lay the blame on his superiors for this 'important and wrong decision'.
Admitting that the final decision had been his, General Smith did not agree with the defense about shifting the blame. 'I can't see what anyone could be blamed for', he concluded.
The trial of seven Bosnian Serb military and police officers, charged with crimes in Srebrenica and Zepa, continues on Monday, 19 November 2007.