Home
WITNESS: 'RAMUSH WOULD NEVER HAVE ALLOWED IT'
Describing how his sister Sanije Balaj was killed, prosecution witness says Ramush Haradinaj and Idriz Balaj were not to blame for the crime. Shaban Balaj is convinced Ramush would never have allowed it, and that Idriz was wrongly accused for moving her body. The witness and the first accused were cautioned about 'making eye contact" in the courtroom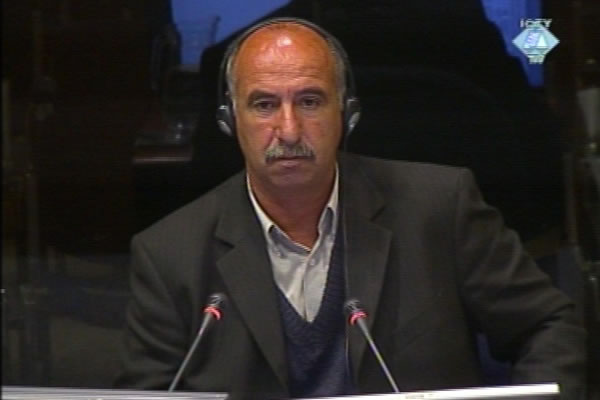 Shaban Balaj, witness in the Haradinaj trial
According to the indictment against Haradinaj, Balaj and Brahimaj, victim Sanije Balaj was killed on 12 August 1998 after she was kidnapped by the KLA in the village of Barane near Decani. She was suspected of collaborating with the Serbs. Two KLA soldiers, Avni Krasniqi and Idriz Gashi, took her from Barane, stopped the car en route to Glodjane, killed her in a nearby forest and buried the body there.. The accused Idriz Balaj allegedly exhumed the body a few days later and took it towards Glodjane.
Shaban, the victim's brother, conducted the first, private investigation into Sanije Balaj's death. Everything he found in the days after her disappearance tallies with the allegations in the indictment, except for one thing: the witness doesn't think that Haradinaj and Balaj had anything to do with the crime.
In the morning of 12 August 1998, his sister and two relatives headed to Pec, the witness said. She wanted to buy a mobile phone. The relatives came back in the afternoon and told him that Sanije had been taken out of the car by a group of soldiers led by Met Krasniqi, a local commander. In the days that followed, the witness met with several local KLA commanders and learned that after the arrest his sister had been questioned in the Barane barracks by Met's relative, Cuf Krasniqi. She was then taken away by Idriz Gashi and Avni Krasniqi. After a few days, the witness managed to find the grave she was buried in. The grave was empty because the body had been exhumed and moved elsewhere. It was found in 2007, although the indictment against the three former KLA commanders alleges that Sanije Balaj's body was found in September 1998 in the Radonjic lake canal, as were dozens of other bodies.
The prosecution claims that the KLA units from Barane were under the command of Ramush Haradinaj, who addressed the soldiers when they were sworn in on 20 July 1998 in the make-shift barracks in the village. Shaban Balaj denies that Haradinaj is responsible, claiming that his sister was killed by 'self-proclaimed commanders who were not under anyone's control'. He is sure Ramush would never have allowed such a crime. The witness denies the allegation in the indictment that the second accused Idriz Balaj exhumed his sister's body from the grave and moved it elsewhere. A local shepherd told him some other people had done it, he said. Although Met Krasniqi himself told him that Balaj had done it, the witness is still convinced it is a 'false accusation'.
As he answered the prosecutor's questions, the witness often looked towards the accused, The presiding judge warned him not to make eye-contact with them. The first accused Haradinaj was also cautioned, but it took two warnings for the witness and the accused to stop.