Home
KLA "INSIDER WITNESS" FINISHES HIS TESTIMONY
Former KLA Chief of Main Staff describes how Ramush Haradinaj, Dukagjin Operative Zone commander, introduced him to the accused Idriz Balaj, Rapid Response Unit commander. Haradinaj introduced Balaj as a "brave and experienced fighter ready to fight for the freedom of his country"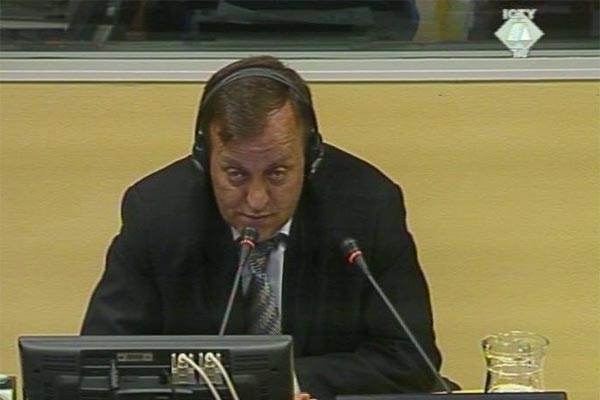 Bislim Zyrapi, witness in the Haradinaj, Balaj and Brahimaj trial
Bislim Zyrapi, former KLA Chief of Main Staff, finished his testimony today at the trial of three former KLA commanders. This was Zyrapi's third time to take the stand before the Tribunal. He testified for the prosecution at the trial of six Serbian officials charged with crimes against Kosovo Albanians and before that, for the defense at the trial of three former KLA members, Fatmir Limaj, Isak Musliu and Haradin Bala, charged with the crimes in the Lapusnik camp.
As he was cross-examined today by Idriz Balaj's defense counsel, Zyrapi confirmed that Balaj was the Rapid Response Unit commander in the Dukagjin Operative Zone. He claims that Ramush Haradinaj told him that when he introduced him to Balaj in July 1998 in village Rznic near Glodjane. Haradinaj described Balaj as a brave and experienced fighter, a man who had proven his mettle in the war in Croatia, and "ready to fight for the freedom of his country", Zyrapi said.
The witness maintained that in July 1998 the third accused Lahi Brahimaj was a member of the KLA Main Staff in charge of finances. He had previously been elected the deputy commander of the Dukagjin Operative Zone. Asked by Brahimaj's defense counsel whether he knew that there was a prison in Jablanica, the witness said he did not. He visited Jablanica only twice, and that briefly, he went on to say. The prosecution argues that Brahimaj was the commander of the Jablanica prison. Many of the KLA victims were last seen there.
After Zyrapi finished his three-day evidence, the prosecution called its next witness, testifying under protective measures: image and voice distortion and with pseudonym 29. He entered the courtroom as the session drew to a close. The Trial Chamber granted protective measures for this witness after they determined that he had received threats on several occasions, that his property had been damaged several times and that some persons, "with close ties" to him at the time relevant for the indictment were killed. He left Kosovo fearing for the safety of his family, and today, as he said, he lives in two countries. The pre-trial brief filed by the prosecution indicates that Witness 29 would speak about the involvement of the accused in the beatings and torture of FARK members. FARK was a guerrilla group loyal to Kosovo political leader Ibrahim Rugova.