Home
DEMOCRATICALLY ELECTED COMMANDER OF THE GUERRILLA IN THE MAKING
In an effort to prove that "normal military structure" didn't exist in the KLA, Ramush Haradinaj's defense counsel claims that his client was "democratically" elected as the commander of the Dukagjin operative zone"; he was not appointed to that post by "a military decision". Even after his appointment, Emmerson argues, Haradinaj did not have control over the entire zone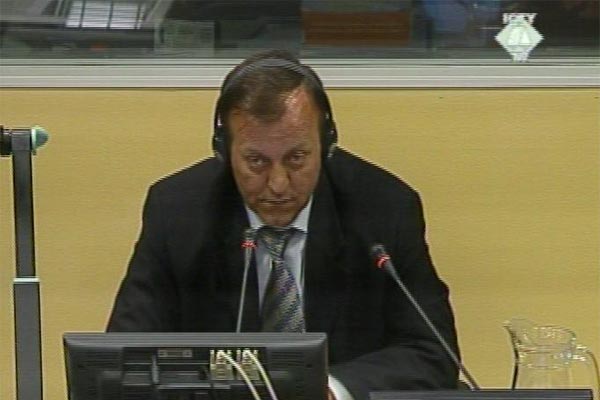 Bislim Zyrapi, witness in the Haradinaj, Balaj and Brahimaj trial
In his cross-examination of Bislim Zyrapi, former KLA Chief of Main Staff, the defense counsel of Ramush Haradinaj tried to play down the command role of his client. Arguing that there was no military chain of command among the Albanian fighters in Kosovo in 1998, he claimed that in 1998 the KLA was not an army but more "a guerrilla in its infancy".
The witness rejected the defense counsel's argument that a body consisting of KLA leaders - some were in Kosovo, and some in Albania – was given "a grand title: the Main Staff" in order to convince the world and its fighters that it was a real army. According to Zyrapi, their intention was to create a real army. In his words, the Main Staff existed although it may not have functioned the way it did in "normal countries".
The KLA Main Staff had no influence on the establishment of the Dukagjin Operative Zone, Emmerson argued. It was not established by an order from above, but by "democratic elections" held on 23 June 1998 when village commanders of the Decani area got together, he went on to say. Emmerson presented the minutes of this meeting showing clearly that five village representatives pushed through Haradinaj's election as the zone commander. The vote was close: he was elected by three votes to two. His opponent was the third accused Lahi Brahimaj who, following the "democratic decision" was appointed Haradinaj's deputy. The witness replied that he didn't know anything about the procedure for their election but that he was told by the members of the Main Staff about the duties of the two accused.
The defense claims that Haradinaj couldn't control Dukagjin even after his election as the operative zone commander. First of all, parts of this territory were controlled by the military and the police. Moreover, Serbian soldiers "often dressed in KLA uniforms", the defense counsel said. The witness was not aware of the disposition of the Serbian forces in the Dukagjin zone. he heard rumors about the Serbs dressing up as the KLA, but he couldn't remember when or who had told him that.
Contrary to Zyrapi's claims yesterday, Emmerson argued that the KLA Rapid Response Units, which existed throughout Kosovo, were not necessarily subordinate to commanders of the operative zones. They could "act independently", he said. Thus, according to the defense counsel, the Rapid Response Unit deployed in Rznic, under the command of the second accused Idriz Balaj, was not under Haradinaj's command. The witness countered his claim, saying that all Rapid Response Units were controlled by the operative zones. He himself saw that during his visit to units deployed in the Drenica zone, prior to his trip to Dukagjin.
Zyrapi will be cross-examined tomorrow by the defense counsel of Idriz Balaj and Lahi Brahimaj. The court will then hear the evidence of a witness testifying under pseudonym 29.